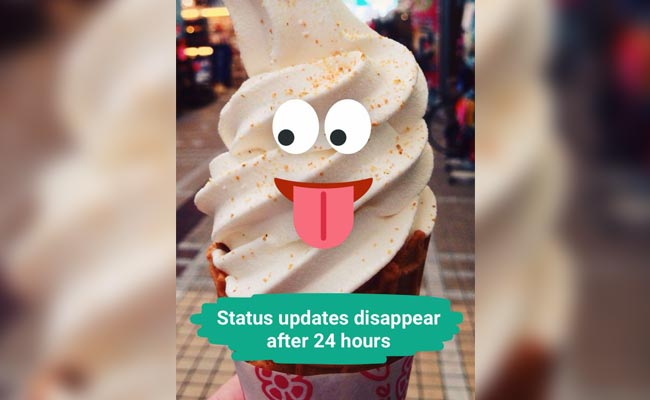 Highlights
WhatsApp has updated its status feature
Users can now add stories as their statuses
This makes the feature similar to Snapchat and Instagram stories
A lot of people woke up to a slightly terrifying development today morning. WhatsApp had overnight introduced a new 'status' feature. This feature is quite similar to Instagram and Snapchat stories. Users can now upload pictures and videos as their status. These disappear after 24 hours. This means a goodbye to simple text message statuses on WhatsApp. So what makes it slightly terrifying? The fact that a lot of parents use WhatsApp too! While Snapchat and Instagram are universally popular amongst millennials, WhatsApp is a more 'family-oriented' app.
A lot of people, predictably and understandably then, are terrified about what this update will mean for them.
Check out some of the funniest reactions to this update.
People are scared about showing their families what they have been up to:
Pic 1: Whatsapp stories
Pic 2: Snapchat stories#Whatsapp#WhatsappStoriespic.twitter.com/QbwxqkRrjc

- Dr. Gill (@ikpsgill1) February 24, 2017
I'm afraid of using whatsapp new status update, my whole family is in my contact list

- Imteyaz rayeen (@Imteyazray) February 24, 2017
The new whatsapp status update is like having snapchat but with your mum as a contact.

- Karishma (@karishma_amin07) February 23, 2017
Snapchat introduced 'stories' for teens.

Instagram introduced it for adults.

Whatsapp introduces it for parents.

- Nishanth (@OneInvincibles) February 24, 2017
Families are not the only thing that people are worried about:
Lastly, thanks to #whatsapp, now people are going to be WAY sneakier by choosing who to show ur status to. INFIDELITY IS ABOUT TO SKYROCKET

- (@gicelitarzac) February 23, 2017
A lot of people just want their simple status messages back:
"Hey there! I'm using Whatsapp!"



Only 90's kids will remember.#WhatsappStatus- Dr. Dr. Sunshine (@BabiKatMew) February 22, 2017
rip to all those beautiful and inspiring song lyrics/quotes used as whatsapp status, gone but not forgotten

- greta (@lostindagroove) February 22, 2017
Dear @WhatsApp, can I have my written status back ?

- Prash. (@daru_desi_) February 24, 2017
Many poked fun of the similarities between Snapchat, Instagram and WhatsApp
WhatsApp: New Status feature uses photos, text, emojis and sketches to show what you're doing.

Snapchat: Ha sahi hai, tum hi karlo sab!

- Sand-d Singh (@Sand_In_Deed) February 24, 2017
#Whatsapp updates



Status Deletes automatically - Snapchat
Can add story - Instagram

Next possible update - msg only in 140 character.- Original (@4mlvodka) February 24, 2017
Someone please explain to me what Mark is doing with this new WhatsApp status and pictures.
Ezz, this ain't Snapchat na.

- Funso Popoola (@funso_popoola) February 24, 2017
Coming as it does just a day after Instagram's album feature update, it seems like a lot of people are just tired of constant updates that change apps as we know them.
Dear @WhatsApp this update was completely unnecessary & useless I just want my contacts list and my WRITTEN status back..

- Chinmay Shrotri (@chinmayshrotri) February 24, 2017
What do you think of this feature? Let us know using the comments section below.