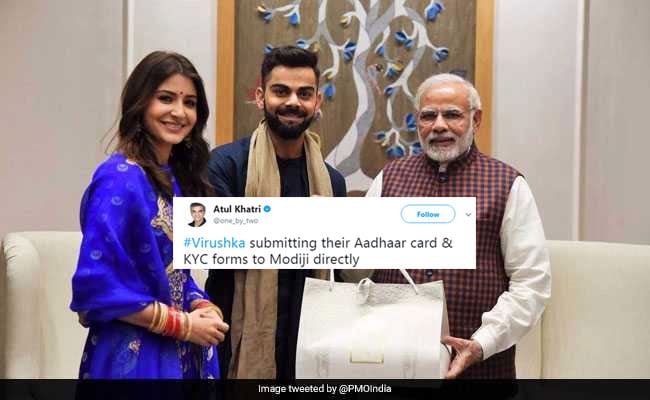 Since they got married, Anushka Sharma and Virat Kohli's wedding has been the talk of the Internet. And it seems the excitement is nowhere close to dying down any time soon. After a secret wedding (almost) and a honeymoon in an undisclosed location, the newly-weds are finally back in the country. Anushka and Virat met Prime Minister Narendra Modi in the capital on December 20 to invite him for their wedding reception. And since social media is currently completely obsessed with all things Virushka, pictures of the meeting soon went viral with social media doing what it does best - make jokes and memes about the whole thing.
Here are some of the funniest Virushka memes circulating on Twitter and Instagram:
India's 3 favourite pass-times, Cricket, Politics and Bollywood summed up in a single pic.. pic.twitter.com/htoBMy1ZxE

- The-Lying-Lama (@KyaUkhaadLega) December 20, 2017
India's hopes for 2019. pic.twitter.com/Yt0pCTrcb3

- Silly Point (@FarziCricketer) December 20, 2017
#Virushka submitting their Aadhaar card & KYC forms to Modiji directly pic.twitter.com/YHNNa8cqG6

- Atul Khatri (@one_by_two) December 20, 2017
A picture of Virat Kohli and Anushka Sharma exchanging some old 500 and 1000 rupee notes they couldn't exchange during demonetization. pic.twitter.com/vVwlQhjbJI

- Vishesh Arora (@vishesharora19) December 20, 2017
Not only this, days after the newlyweds shared a picture from their honeymoon without declaring where they were, social media began a guessing game whoch soon turned into a Photoshop Battle of sorts. Anushka and Virat didn't tell the world where honeymooned, so social media decided they knew best:
Anushka Sharma and Virat Kohli tied the knot in Italy and shared pictures announcing their wedding on social media. "Today we have promised each other to be bound in love forever. We are truly blessed to share the news with you. This beautiful day will be made more special with the love and support of our family of fans & well wishers. Thank you for being such an important part of our journey," say their posts on Twitter and Instagram.
The newlyweds are slated to have two receptions, one in Delhi later today and another in Mumbai on December 26.Click for more
trending news