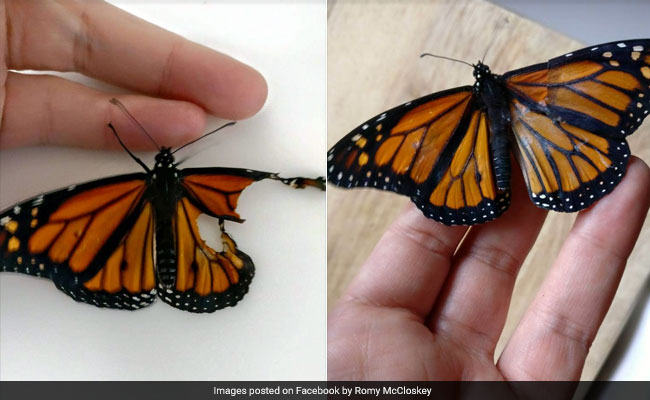 A US based costume designer used her skills to help an injured butterfly take flight and is now going viral because of it. Her heartwarming post about repairing the butterfly's broken wings has touched a chord with many collecting over 15,000 reactions and more than 20,400 shares since January 8.
Costume designer
Romy McCloskey
has been raising butterflies since she accidentally found a couple of caterpillars in her yard in October last fall. So when she found a three-days-old butterfly with broken wings, she couldn't help but think of a solution to help him. The butterfly had sustained an injury while pupating that left his wings damaged. A friend sent her video on how she could repair the little guy's wings and that's exactly what she did.
"I figured, since I do so much designing, cutting and putting together of costumes... I could give this a go. And I'm really glad I did!" she says on Facebook.
Her post, complete with seven pictures, details how she went about transplanting the wings of a butterfly that had died earlier onto this one.
Ms McCloskey
used a tweezers, scissors, talc, contact cement and toothpick among other things to repair the butterfly's wings.
She secured the butterfly with a bent hanger to remove his damaged wings. "Don't worry, it doesn't hurt. It's like trimming hair or nails," she says on Facebook.
Here's how the little guy looked once she was done putting him back together.
"We had a successful flight! A quick spin around the backyard, then a little rest on on of the bushes... then... 'like the down of a thistle '... off he flew! My heart soared with him, for sure!" she says on Facebook.
Take a look at Ms McCloskey's post below:
Her wonderful post has moved many on Facebook.
"The world needs more people like you," says one Facebook user. "I am speechless... you are the most wonderful human being that I have encountered in my life. God Bless you and your hands," says another.Click for more
trending news