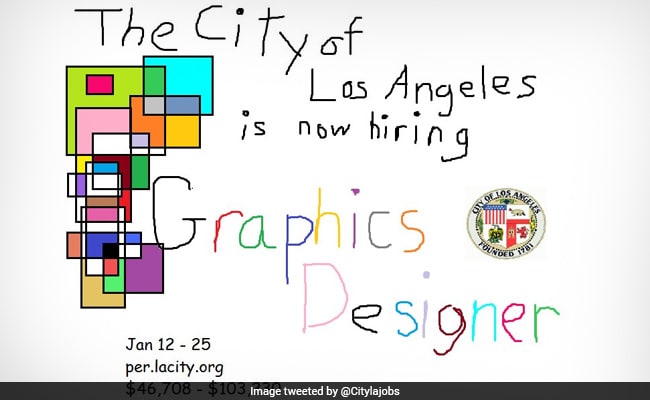 A hilarious but impressive job advertisement by the city of Los Angeles has creating some buzz on Twitter. Made with Microsoft's Paint tool, the ad looks like a sketch by a kid and has amused many online with its 90s-esque appeal. The job posting for the role of a graphic designer features the seal of Los Angeles along with a very primitive-looking mosaic and some cringeworthy scrawling done with a mouse.
"The city of Los Angeles is now hiring Graphics Designer," reads the ad. Along with it, details of the role like the salary package and the last date to apply written in Internet's most-hated font - Comic Sans.
Posted some 48 hours before writing this, the ad has over 29,000 retweets and over 71,000 favourites. On Facebook too, the job ad had over 17,000 shares. One look at the cheeky advert will tell you why so many were drawn to it.
https://t.co/rVbTTIAFBRpic.twitter.com/At6GOD6MP5

— CityLosAngeles-Jobs (@Citylajobs) January 18, 2018
The amateur-looking yet effective job ad did its work rather well as it attracted many potential jobseekers. But mostly, Twitter had a good laugh about how efficiently it conveyed the point that the city desperately needed a graphic designer.
Here's my resume pic.twitter.com/o8YBYphgUv

— Shoshana Weissmann, Sloth Committee Chair (@senatorshoshana) January 19, 2018
It was an amusing ad until I saw the Comic Sans. Too far.

— Andrew Braid (@Andrew_Braid) January 19, 2018
You could've use this. pic.twitter.com/arLSr7wete

— Michael Rivera (@MichaelR8783) January 19, 2018
plz help. this is their current designer. pic.twitter.com/mI6zyOV20a

— rich (@RichieJamz) January 19, 2018
January 19, 2018
you don't need to hire a graphic designer you've already got the best one

— Louie Zong (@everydaylouie) January 19, 2018
January 19, 2018
*furiously prepares resume* pic.twitter.com/lF6s9qxOi1

— Twitter Government (@TwitterGov) January 19, 2018
ALL IN pic.twitter.com/uQwix2FIgB

— Joan Cantimplora (@JoanCantimplora) January 19, 2018
hire me pleas pic.twitter.com/M11jyC78qE

— (@whatwouldmildo) January 19, 2018
The government
website
says the job requires the designer to prepare ads, posters, pamphlets for publicity, informational and promotional purposes. Hopefully, the chosen candidate will do a better job at ads than the existing one.
What do you think of the ad? Let us know in the comments section below.Click for more
trending news