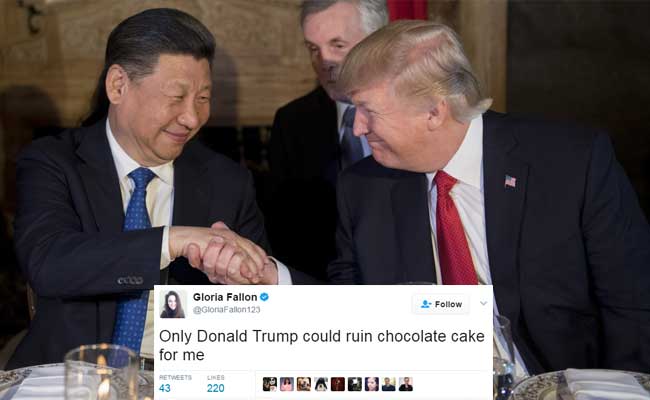 NEW DELHI:
US President Donald Trump brought upon himself the collective wrath of the Internet after statements he made during an interview aired on Wednesday. POTUS, in his interview, spoke about eating 'the most beautiful piece of chocolate cake' with Chinese President Xi Jinping when he ordered the airstrike on Syria. During the interview, he also confused the name of the country he launched the missiles at. The comments instantly drew a flood of reactions on Twitter.
"We had finished dinner. We're now having dessert. And we had the most beautiful piece of chocolate cake that you've ever seen and President Xi was enjoying it," Trump said in the interview. He goes to explain how that is when he received a message from the generals that "the ships are locked and loaded."
After praising their military technology and equipment, he spoke about telling the Chinese President about the strike. "I say, 'We've just launched 59 missiles, heading to Iraq.'"
"Headed to Syria," the interviewer corrected him. "Yes, heading towards Syria," saidTrump.
People quickly took to Twitter to post their reactions on the interview.
Leave it to Trump to ruin cake, too.

- R. Eric Thomas (@oureric) April 12, 2017
When Donald Trump mentions how much he likes chocolate cake pic.twitter.com/RPHzldk8rx

- Born Miserable (@bornmiserable) April 13, 2017
How I picture Donald Trump eating chocolate cake while bombing Syria. pic.twitter.com/jLkh3kbj8M

- Alex Goldschmidt (@alexandergold) April 12, 2017
Only Donald Trump could ruin chocolate cake for me

- Gloria Fallon (@GloriaFallon123) April 12, 2017
In his most recent interview, Trump described a slice of cake with more passion and precision than he's ever brought to foreign policy.

- John Iadarola (@johniadarola) April 12, 2017
I'm the boss! #Trump#DonaldTrump#PresidentTrump#Cake#TrumpCake#MaraLago#BeautifulCake#WhiteHouse#MAGA#CakeBosspic.twitter.com/AE1haDQ8Wl

- Big Time Operator (@b1gt1me0perat0r) April 12, 2017
Marie Antoinette: No one will ever be as tone deaf as me regarding cake



Donald Trump: Hold my beer- Roland Scahill (@rolandscahill) April 12, 2017
Marie Antoinette: Let them eat cake!. Donald Trump: Let me eat cake!

- Trump's not my Pres (@Nysteveo2AOLcom) April 13, 2017
Donald Trump orders the airstrike on Syria, over a slice of chocolate cake. Mar-A-Lago, 2017 pic.twitter.com/4N8g7PvEOy

- Daria Knight (@wild_honey13) April 13, 2017
HOW TO LOSE WEIGHT:

2003: Atkins Diet



2012: Juice Cleanse Diet

2017: Listening to Donald Trump Talk About Chocolate Cake Diet- MorganPhillips (@MorganPhillipsK) April 13, 2017
According to reports, the airstrike was in retaliation for Syria's alleged chemical attack which killed as many as 87 civilians, many of which were children.