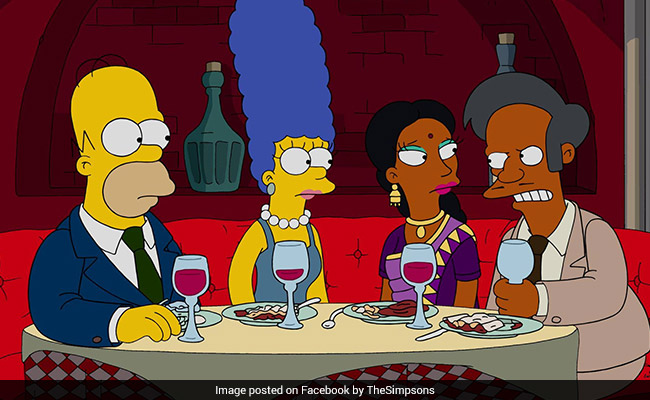 New Delhi:
For years, Apu Nahasapeemapetilon was one of the few
desi
characters on primetime television in the United States. The lovable owner of Kwik-E-Mart in the fictional town of Springfield is a prominent recurring character on the long-running animated series
The Simpsons.
But Apu is also considered problematic for many reasons. For instance, a Caucasian actor - Hank Azaria - voices Apu's character and is responsible for his exaggerated "Indian" accent. (Fun fact: Mr Azaria has won three Emmy Awards for the role.)
Apu is admittedly a caricature made up entirely of South Asian stereotypes. He's a PhD in computer science - but runs a convenience store. He had an arranged marriage and then eight children. Oh, and he was an illegal immigrant too.
Last year, Indian-American comedian Hari Kondabolu wrote and starred in a documentary called
The Problem With Apu
. In it, Mr Kondabolu discussed the one-dimensional character of Apu and the casual racism it led to with Indian-origin actors and comedians including Kal Penn, Aziz Ansari, Hasan Minhaj and Sakina Jaffrey.
The Simpsons
finally addressed the controversy in its latest episode on Sunday - and appeared to dismiss it.
#TheSimpsons completely toothless response to @harikondabolu#TheProblemWithApu about the racist character Apu:

"Something that started decades ago and was applauded and inoffensive is now politically incorrect... What can you do?" pic.twitter.com/Bj7qE2FXWN

— Soham (@soham_burger) April 9, 2018
Many viewers were left sorely disappointed by their approach:
It wasn't "inoffensive" then. It was always offensive, it's just those who were offended have a more visible platform to voice their complaints.

— ThereWillBeTypos (@CijiTheGeek) April 9, 2018
This is incredible. Because Apu has only recently become a racist character. It's only been in the last few years Asians have felt enough of an identity to be confident enough to call this shit out. And The Simpsons respond by calling it "politically incorrect" instead of racist https://t.co/MU5EsCMPcu

— kavya (@Kav_Kaushik) April 9, 2018
I wish the Simpsons writers had some idea of how shitty they made the childhood & teenage years of so many brown kids. The show turned our parents into punchlines. We never clapped. Apu was a cheap joke in an otherwise clever show. How hard would it be to admit that? https://t.co/f3rgT1RYP0

— Erika H. (@DrCanonic) April 9, 2018
​
Including Mr Kondabolu, who responded to the episode on Twitter:
Wow. "Politically Incorrect?" That's the takeaway from my movie & the discussion it sparked? Man, I really loved this show. This is sad. https://t.co/lYFH5LguEJ

— Hari Kondabolu (@harikondabolu) April 9, 2018
In "The Problem with Apu," I used Apu & The Simpsons as an entry point into a larger conversation about the representation of marginalized groups & why this is important. The Simpsons response tonight is not a jab at me, but at what many of us consider progress.

— Hari Kondabolu (@harikondabolu) April 9, 2018
Some viewers, though, couldn't understand why Apu would be considered particularly offensive in a show that "spoofs virtually everything."
Literally everyone in the Simpsons is a stereotype racial or otherwise, thats where a large amount of the comedy dirives from isnt it?

— goth mom (@virgoscum) April 9, 2018
TBH, I really don't see how Apu can be thought of as offensive. He's just a character in a spoof cartoon that spoofs virtually everything. Why is it surprising that a character in that cartoon is a spoof? What did you expect?

— (+[___]-:-) Guren (@OlorinTheOtaku) April 9, 2018
Maybe everyone is just too sensitive now. Family guy is worse but because we expect it from that kind of comedy it's ok, so why isn't the Simpsons?

— SmoedBRO (@KUWTWestFam) April 9, 2018
That's something Mr Kondabolu addressed in an interview with the
BBC
last year.
"The Simpsons is an important work of art that has influenced so many, including myself," Mr Kondabolu said. "Apu was the only Indian we had on TV at all so I was happy for any representation as a kid. And of course he's funny, but that doesn't mean this representation is accurate or right or righteous. It gets to the insidiousness of racism, though, because you don't even notice it when it's right in front of you. It becomes so normal that you don't even think about it."
The Simpsons
is one of the most popular animated series of all time and has aired for nearly 30 years. So far, nobody from the show has responded to the barrage of criticism its latest episode received.
What do you think of Apu's depiction in
The Simpsons
? Let us know in the comments section below. Click for more
trending news