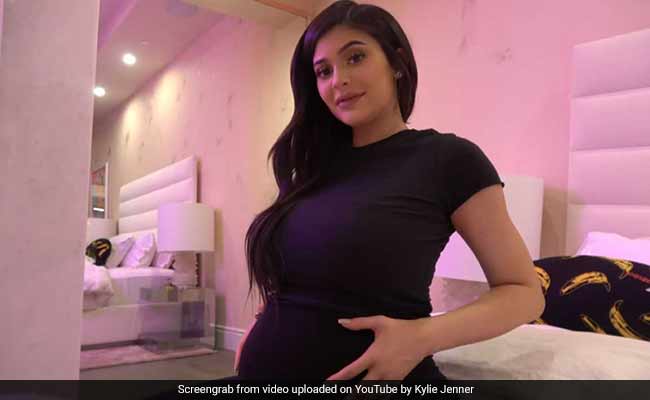 After months of waiting, rumours and conspiracy theories, Kylie Jenner put all speculation to rest as she announced the birth of her daughter. The US reality TV star, entrepreneur and social media celebrity welcomed her first child with boyfriend Travis Scott on February 1, according to Twitter and Instagram posts shared by her about 10 hours ago. "My beautiful and healthy baby girl arrived February 1st," she writes in her post. The Internet-breaking news left many stunned as congratulatory messages started pouring in for Kylie and Travis.
February 4, 2018
Along with that announcement, Kylie Jenner also shared with 102 million Instagram followers an intimate video documenting her pregnancy.
Since being shared on YouTube only a few hours ago, the video, simply titled 'To Our Daughter', has already been viewed over 18 million times.
The 11-minute-long video includes footage of Kylie and Travis hanging out, attending their ultrasound appointments together, videos of Kylie's own birth and pictures of her baby bump. Kylie is seen flaunting the baby bump that she kept hidden from the public for nine months.
It also has footage from the first time Kim Kardashian's daughter Chicago was seen on camera for the first time.
Watch the video below:
People on social media can't stop gushing about the video:
.....why did I cry through the entire Kylie Jenner video

- Chelsea DeBoer (@ChelseaHouska) February 4, 2018
ima keep it real with you chief.... that kylie pregnancy journey video beautiful

- Demetrius Harmon (@meechonmars) February 4, 2018
Kylie's pregnancy video was beautiful especially when she said "double cheeseburger and fries well done please"

I felt that

- kt (@_katiemcg) February 5, 2018
this part in kylie's video got me crying :( pic.twitter.com/iwNoTrrEc1

- n s (@93rapIine) February 5, 2018
Kylie Jenner is best-known for featuring in
Keeping Up With The Kardashians
. A couple of years ago, she launched her own cosmetics line called Kylie Cosmetics.
Click for more
trending news