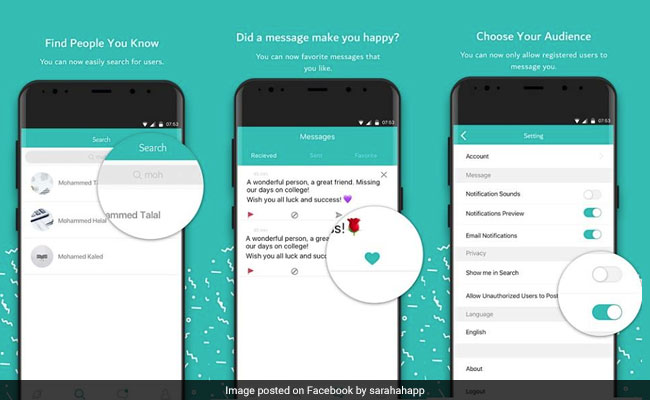 New Delhi:
If you're on Snapchat, Twitter or Facebook, chances are your feeds have been flooded with turquoise screenshots from an app called Sarahah. But what is the Sarahah app and why are people suddenly obsessed with it?
Sarahah, which roughly translates to "honesty" in Arabic, was developed by a Saudi developer,
Zain al-Abidin Tawfiq
and was initially meant for employees to give constructive feedback to their employers. The app still opens with this message: "Leave a constructive message :)"
Sarahah app
lets users send each other anonymous messages, or as its official
website
puts it, receive "honest feedback from your employees and your friends in a private manner," in an attempt to discover your strengths and self-improve.
Since then, however, the anonymous messaging app has gone massively viral, with people posting screenshots of messages they receive on their social media feeds.
The app, with millions of users, has raised some concerns of cyberbullying due to the anonymity provided.
Here's what Twitter thinks of Sarahah:
An accurate representation of people on social media these days:
Types of people who are:
1. posting SS of sarahah
2. Jokes on sarahah
3. Want to get rid of sarahah
4. Who don't know what is sarahah

— Bee (@mango_byte) August 12, 2017
Bas ab to intezaar "I don't use Sarahah app. I have a life" waale posts ka hai.

— Khaleesi (@memevaali) August 12, 2017
When people post screenshots of messages they got on Sarahah:
Me reading others people's messages at #Sarahahpic.twitter.com/YbYoN85HbT

— Shushant (@whoshushant) August 12, 2017
Maybe stop posting those screenshots?
How #Sarahah works:

"I'm so excited to see what my friends anonymously say about me!"
*screenshots and publicly posts every comment*

— forever_akela (@forever_akela) August 11, 2017
Roses are red,
Violets are blue,
Don't flood my page with sarahah,
Not interested in knowing what people think about you..#Sarahahapp

— Medha Chakraborty (@Hanukkahsanta) August 11, 2017
Meanwhile...
While everyone is hyping over #Sarahah and you got 0 notifications from it - pic.twitter.com/U5bOAgeYH0

— Nus ; #LOVE_YOURSELF (@Yoongis_beloved) August 12, 2017
Good point:
Idk why ppl r posting photos of Sarahah messages saying "Dm me." "Inbox me." "Idk who u r but hmu." Isn't the point of it to b confidential?

— Kristin Bottoms (@kg_bottoms) August 12, 2017
Ahem, ahem:
A great way to avoid being bullied on Sarahah is to not have one. I know that's a tough concept tho for sure.

— Dean Katris (@DeanKatris) August 12, 2017
Umm, we're sure is a terrifying thought for some:
Really hoping that Sarahah is a prank and they ultimately reveal who sent you those messages and ruin all friendships.

— Sapan Verma (@sapanv) August 12, 2017
In conclusion:
Can we just do sarahah the old fashioned way and tell people how we feel about them??

— SeaJay (@margsandlaughs) August 12, 2017
Have you used the Sarahah app? Let us know what you think of it in the comments section below!Click for more
trending news