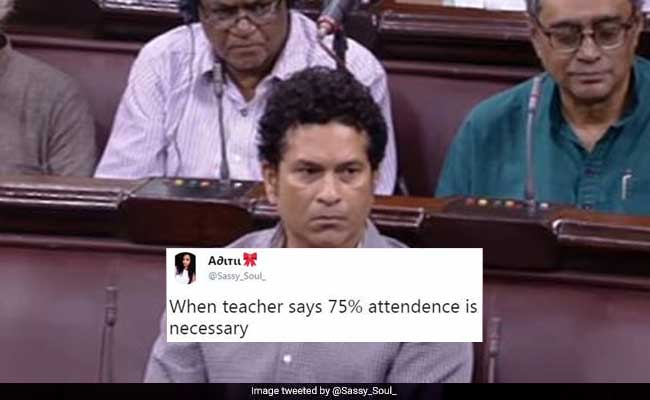 Former Indian cricketer and Rajya Sabha MP Sachin Tendulkar was seen in the Upper House of Parliament today. But something seemed to have irked the God of Cricket, who has been criticised for his
poor attendance
in the Rajya Sabha. A screengrab from Rajya Sabha TV soon went viral on social media as people began to caption Sachin Tendulkar's 'glum' expression with hilariously relatable, everyday situations. Take a look at 8 of the funniest tweets:
Me when relatives come to our house#Sachinpic.twitter.com/AcRtOLkw5r

- Je Suis Liberal (@TweetOfLiberal) August 3, 2017
When teacher says 75% attendence is necessary pic.twitter.com/gXMM781Hir

- A (@Sassy_Soul_) August 3, 2017
When you don't attend classes,you don't have anyone to sit next to. pic.twitter.com/NpUPezJnMH

- .. (@itsdhruvism) August 3, 2017
Close enough ? pic.twitter.com/WfxoyWbWcB

- Akshay Jain (@AkshayKatariyaa) August 3, 2017
When there's compulsory attendance for pre-placement talks in B-Schools. pic.twitter.com/2wq8LGgmcw

- Trendulkar (@Trendulkar) August 3, 2017
What sachin must be feeling sitting there.. pic.twitter.com/sxITORNJVb

- Ashish Vashistha (@blunders_pridee) August 3, 2017
*Rajyasabha*

Sachin- I want to speak

Speaker- Bolo



Sachin- My movie will be available on Amazon Prime from next week



Speaker - pic.twitter.com/efTHfPVf8Y- Subhasish (@i_mPups) August 3, 2017
Unexpected guest appearances which have surprised us:
1. Salman Khan: KKHH
2. Ranbir Kapoor: PK
3. #Sachin : #RajyaSabha
4. SRK: Tube light pic.twitter.com/kJDsSH94pd

- The LOL Buddhu (@lolbuddhu) August 3, 2017
Mr Tendulkar has been a Rajya Sabha member since 2012.
Which meme did you find the funniest? Let us know using the comments section below.
Click for more
trending news