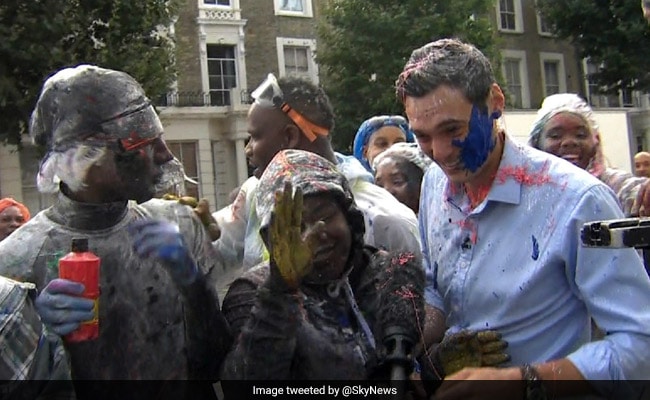 Sky News reporter Joe Tidy was sent to cover the Notting Hill Carnival in London over the weekend. During an early morning live broadcast on Sunday, excited carnival-goers made sure he wouldn't feel left out during the festivities and promptly covered him in colourful paint. Mr Tidy's good-humoured reaction is winning the Internet.
A video of the colourful incident, tweeted by Sky News, begins with Mr Tidy speaking to a group of carnival-goers covered head-to-toe in paint.
A group of revellers soon gathers around them and suddenly, his shirt gets sprayed with paint.
The smiling Mr Tidy announces: "Here we go, the paint, here we go, oh dear. Okay, yes, that's a bit of paint on me, great."
Then, a carnival-goer smears bright blue paint across the journalist's face.
"Oh come on, it was going to happen, wasn't it? Right, I'll hand back to you guys," Mr Tidy laughs sheepishly as he hands over to the anchors in studio.
The camera cuts to the two anchors in studio trying to suppress their laughter.
"Joe, if you're going to be down there, you've got to get into the spirit of it," one of them says.
Watch the video below:
Ah, the perils (and fun) of live news: It's only just gone 8am and Sky's @joetidy already needs a change of clothes at #Carnival2017pic.twitter.com/17rNimKIGj

— Sky News (@SkyNews) August 27, 2017
The anchors' faces really say it all:
Their faces say it all: Memorable morning on #Sunrise today @ClaudiaLizaTV & @skystephen?
#Carnival2017pic.twitter.com/hWzyz4WLGX

— Sky News (@SkyNews) August 27, 2017
On Twitter, people couldn't help but appreciate Mr Tidy's upbeat demeanour:
Moments like these are needed in a world gone mad. Thanks! pic.twitter.com/kYGyS2eomA

— Bye Felicia! (@CaliforniaJazzy) August 27, 2017
This is what i call suffering for your art , sky news style @joetidy really looks like hes enjoying himself

— Karthic Sinnadurai (@karthic180) August 27, 2017
Great job Joe, you stayed cool under pressure. I hope that you get a new shirt on expenses and keep up the good work.

— Brigstocke Lexden (@Brigstocke123) August 28, 2017
Mr Tidy took to Twitter to update everyone on the status of his blue shirt. Much like our clothes after
Holi
, looks like it's time to turn that shirt into a rag or a
pochcha
:
Moment of truth. What paint did they use at #carnival2017 ??! pic.twitter.com/02a82csxiL

— Joe Tidy (@joetidy) August 27, 2017
Meanwhile, one person had this witty suggestion for Mr Tidy's next outing to the carnival:
@joetidy Sky News outfit for tomorrow's #carnival2017#NottingHillCarnival@SkyNewspic.twitter.com/BsdN20fLta

— Darren Oatway (@DarrenOatway) August 27, 2017
The annual Notting Hill carnival is known as Europe's "biggest street party." The event, spread over two days, sees colourful parades as well as dancers and musicians descend on West London. Click for more
trending news