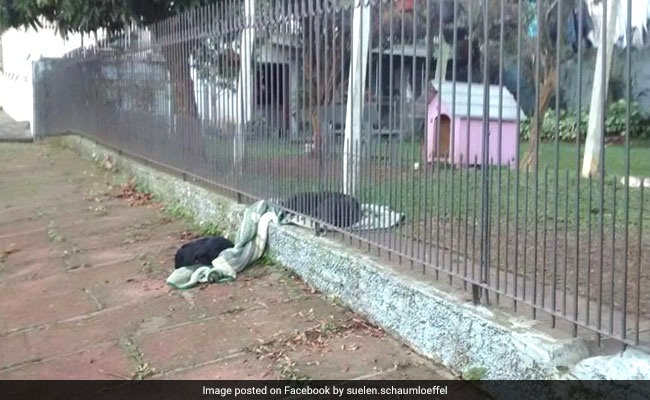 Suelen Schaumloeffel, a journalist in Brazil, recently shared a picture on Facebook that is tugging at the Internet's collective heartstrings. The picture, taken by her fiance and shared with NDTV with permission, shows their adopted puppy Lana sharing her warm, cozy blanket with a stray dog on a particularly chilly morning.
Eight-month-old Lana was adopted by Ms Schaumloeffel and her fiance last year. About two weeks ago, Ms Schaumloeffel writes on Facebook that she took a heavy blanket to cover Lana in her doghouse so she would be warm enough overnight.
The next morning, on July 4, her fiance saw an unusual sight: Lana curled up on her blanket on one side of the fence and a stray dog fast asleep on the blanket on the other side of the fence. He couldn't help but stop and take a picture of the sweet moment.
"She is the nicest little dog I've ever met," Ms Schaumloeffel tells
The Dodo
. "We forget sometimes the difference we can make in someone's life. She reminded me of this."
She adds the couple has started leaving food and water out for the stray dog and are hoping to help him find a permanent home soon.
"I thought, 'How beautiful what she did for her friend,'" Ms Schaumloeffel tells
The Dodo
. "My best four-legged friend reminded me of something so important: generosity!"
Since being uploaded, the picture has collected over 45,000 reactions and been shared over 26,000 times on Facebook.
Let us know what you think of Lana the puppy's generosity in the comments section below.Click for more
trending news