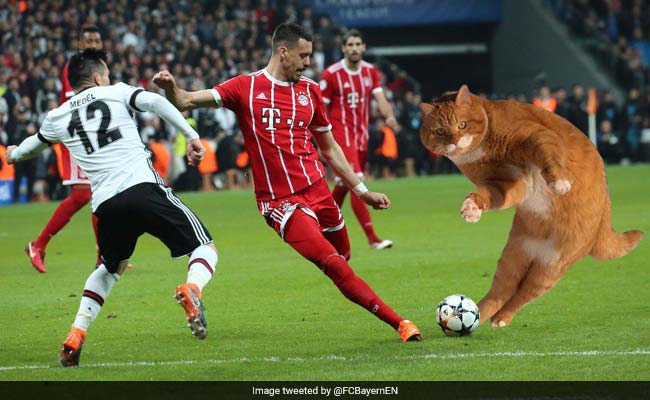 Istanbul, Turkey:
The second leg of the last 16 UEFA Champions League football match between Besiktas and Bayern Munich was in full flow in Istanbul when the referee brought a halt to proceedings due to an unexpected pitch invader.
An overly impassioned Turkish fan carried away by the deafening atmosphere in the Vodafone Park? A naked streaker braving the evening chill? Or a protester trying to use this big stage to make a point?
No, the surprise guest on the pitch in the clash between the leading Turkish and German sides was none other than a humble Istanbul cat.
March 14, 2018
#HereToCreatepic.twitter.com/BJgvufPdKz

— FC Bayern US (@FCBayernUS) March 14, 2018
There are thousands of stray cats in Istanbul and they populate not just the back alleys but public buildings, concert halls and restaurants and accorded considerable respect.
And this four-legged friend decided to catch a glimpse of the Champions League.
The cat -- clearly a Besiktas fan -- scampered onto the pitch to the Besiktas goal in the 50th minute with Bayern 2-0 up.
Referee Michael Oliver stopped play as fans erupted in guffaws around the stadium. The cat then obediently pawed its way off the pitch after a minute and play could start again.
You have spoken. #MeowSanMeow#BJKFCBpic.twitter.com/M07oMKVof9

— FC Bayern English (@FCBayernEN) March 14, 2018
The cat's appearance failed to deter Bayern or bring Besiktas some feline luck.
The German side completed a comprehensive 8-1 aggregate victory in Istanbul, having effectively clinched the last-16 tie following a 5-0 rout last month in the first leg in Munich.
(Except for the headline, this story has not been edited by NDTV staff and is published from a syndicated feed.)
Click for more
trending news