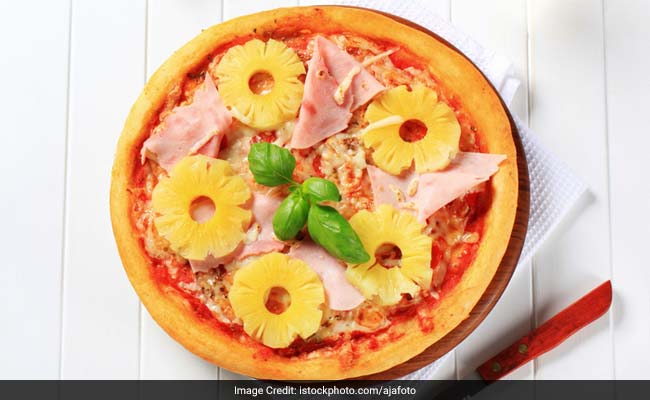 Highlights
Icelands President says hes fundamentally opposed to pineapple on pizza
Internet immediately starts a debate on pineapples as pizza topping
The President eventually put out a clarification on the matter
One of the greater debates of our time is whether pineapple belongs on pizza or not. So what happens when an important political figure decides to take a stand on this important issue? For one, the Internet goes into overdrive and things get slightly out of control. And that's exactly what happened when Iceland's President, Gudni Thorlacius Johannesson, said that he was 'fundamentally opposed' to pineapples as a pizza topping and would ban them if he could, stirring up quite the political and culinary storm.
According to a
report
published in the Iceland Magazine, President Johannesson made these 'controversial' remarks while visiting a high school in the town of Akureyri in northern Iceland. While interacting with students, he answered a question about pineapples on pizza, which is when he made these 'controversial' statements. As was wholly expected, the Internet immediately divided itself into two factions.
There were some who came out in full support of pineapples on pizza:
PINEAPPLE IS GOOD ON PIZZA

- Cole (@ColeFranks17) February 21, 201
Pineapple belongs on pizza. End of story. Don't @ me.

- butt wizard (@alexshapiro135) February 21, 2017
I thought something big politically was happening in Korea. Seem to be just the age old pineapple on pizza argument.

- Madeleine Rosca (@MadeleineRosca) February 21, 2017
There were also those who were staunchly opposed to the idea:
you can all stay in Iceland as well so us pineapple on pizza lovers can live in peace and tastiness pic.twitter.com/UOZ3g5shNp

- Luke Brooks (@luke_brooks) February 21, 2017
There are 2 kinds of people on this planet: ones who like pineapple on pizza and the ones who have dark souls who refuse to let happiness in

- Sahithi Meduri (@sahithimeduri) February 21, 2017
PINEAPPLE DOESN'T BELONG ON PIZZA

- anderson stallings (@andrsn_renee) February 12, 2017
In fact, the entire issue escalated so much that the President had to put out a message on Facebook, assuring people that he does not have the power to change laws that ban certain foods on pizza.
"Presidents should not have unlimited power. I would not want to hold this position if I could pass laws forbidding that which I don't like. I would not want to live in such a country. For pizzas, I recommend seafood," says the President, whose approval ratings (unsurprisingly) are as high as 97%.
One tweet sums up the entire issue nicely:
Listen man I'm a person who likes dubstep and pineapple on pizza. Just like what you like don't worry about what others think.

- 3DROD (@3DROD) February 12, 2017
Do you think pineapples belong on pizza? Let us know in the comments section below.