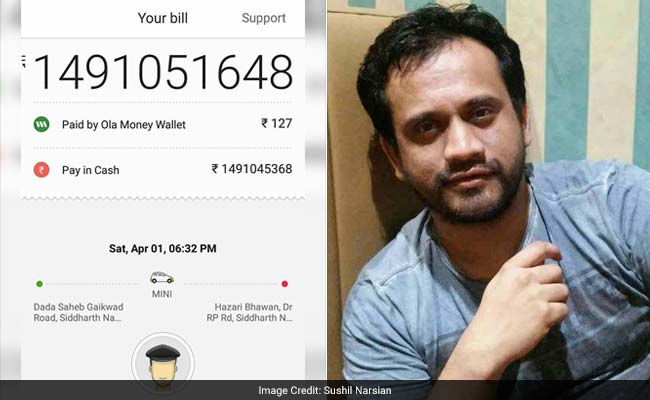 New Delhi:
Mumbai resident Sushil Narsian will not forget April 1, 2017. He booked a cab from his residence in Mulund West to Vakola Market but the driver could not locate his house via maps because his phone stopped working. So, Mr Narsian started walking towards the driver but by the time he reached the pick-up point, the driver had cancelled the ride.
When he tried booking another cab, Mr Narsian saw something that must have felt like a cruel April Fools' joke. He was unable to book a cab because he had an outstanding amount of Rs 1,49,10,51,648. That's over Rs 149 crore if you had trouble calculating. The cab company also deducted the 127 rupees he already had in this mobile wallet. All this for a 300-metre ride.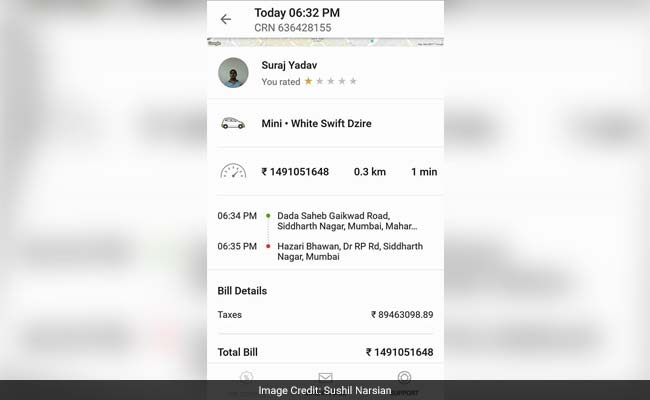 "Initially, I thought it was an April Fools' prank", Mr Narsian told NDTV. He got in touch with the company on
social media
. The company informed him that it was a technical glitch. They refunded his money and fixed the 149-crore-anomaly within two hours.
As a bonus, the company offered him a coupon for the inconvenience he faced. The code to claim the coupon was the same number as the pending amount that showed up on his app.
@SushilNarsian Thanks for pointing out the glitch, Sushil. We've corrected the issue at our end.
Here's a small token of our gratitude. Pls check your DM pic.twitter.com/jxeJ3unlLD

— Ola (@Olacabs) April 4, 2017
Social media
was amused to see the whopping taxi bill.
"149 crores ??? Where was the trip drop location ?? Pluto or Neptune ?", wondered a user on Facebook.
"Check if they pulled a 1st April special on you. Though I would never trust them", wrote another.
Sushil Narsian told NDTV that he has no grudges against the company and continues to use the app.
Hope it doesn't happen again.
Click for
more trending stories