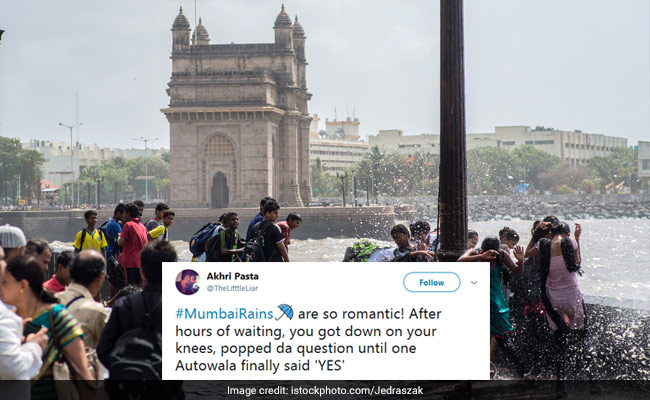 It has been pouring incessantly in Mumbai since early morning today. Even as traffic woes have worsened, trains have been delayed and waist-deep water has filled many parts of the maximum city, Mumbai residents haven't lost their sense of humour. While most people on social media advised others to stay in and stay safe, some tweeted the funniest jokes in just 140 characters. On Instagram too, people had amazing stories of their experience with Mumbai rains:
The rains did not dampen Mumbai's spirit
We brought together some of the funniest tweets on Mumbai rains for you to read and enjoy:
#MumbaiRains are so romantic! After hours of waiting, you got down on your knees, popped da question until one Autowala finally said 'YES'

- Akhri Pasta (@TheLitttleLiar) August 29, 2017
#MumbaiRains are inversely proportional to whether you're carrying an umbrella!
YO - celebrating Sunday

- Lalit Anandi Mehta (@chelseamech) August 20, 2017
Dear girls, if a boys manages to reach CST, Dadar, Mumbai central from Thane, Kalyan, Vashi only to meet you, marry him #MumbaiRains

- prayag sonar (@prayag_sonar) August 29, 2017
Deleted all the games from my phone.
The real game during the #MumbaiRains is getting an Ola or Uber.

- Sorabh Pant (@hankypanty) August 29, 2017
Tip tip? Wait... Bucket bucket barsa paani. #mumbai#mumbairains @ Lower Parel https://t.co/AfsZDR1trO

- Sagar Dave (@SagarTheWay) August 29, 2017
Some had suggestions:
@FordIndia I think the next upgrade should be car which turns into boat during monsoons #MumbaiRains

- Nikhil (@nsknick) August 29, 2017
@Uber_India can I get a boat on Mumbai Roads ? #MumbaiRains

- hardik pandya (@PandyaHardik228) August 29, 2017
Some not-so-subtle digs were taken:
How Sidharth Malhotra is expecting his mumbai fans to come and watch his movie #AGentleman#MumbaiRainspic.twitter.com/bdx94dPI2z"

- sameerr aftab (@smrr19) August 29, 2017
Dear Mumabi,

Stay safe. And watch #AGentelmen :) :)#MumbaiRains

- Confused Soul (@Babla_bla_bla) August 29, 2017
And some had just one thing in mind:
Waiting for the ' In view of the heavy rainfall, you are advised to leave early ' mail #MumbaiRains

- Am (@AmChab) August 29, 2017
I think my company's HR has just taken the day off, they just aren't sending us the "Go home"can email. #MumbaiRains

- idharudhar_ (@PreetaMondkar) August 29, 2017
Although it's scary right now but #MumbaiRains ab aa hi gaye ho to 3-4 ki chutti de kar hi jana.

- Brainless Einstein (@juneedkhan10) August 29, 2017
Weather officials believe this could be the
heaviest and longest bout of rain
since July 26, 2005, when the city was devastated by flooding. Weathermen believe the rain, heavier than average, could continue for at least 24 hours, leading to fears of flooding if coupled with the high tide at 4.30 pm.
Mumbai rains have led to many advising others to plan ahead and stay inside:
Brace yourself Mumbai. Heavy rain coming.
Plan ahead. Stay safe.#MumbaiRainspic.twitter.com/gRXHzZuGnC

- Gul Panag (@GulPanag) August 29, 2017
Mumbaikars stay indoors today with bhajiyas & chai. I made the mistake of trying to drive to Pune. Had to turn back.

- ashabhosle (@ashabhosle) August 29, 2017
Click for more
trending news