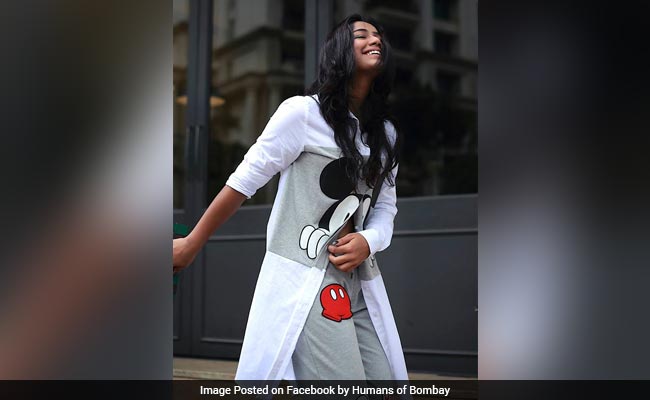 New Delhi:
Ever since 23-year-old fashion blogger Santoshi Shetty burst onto the social media scene, she has had people talking. First it was wondering how the architecture student managed to juggle going to college full time, while building
her own website
and gaining over 252,000
followers on Instagram
. Then it was all about the colour of her skin: 'She's so dark, how is she a blogger?' In an inspiring post shared on the
Humans of Bombay Facebook page
, Santoshi details her journey from sensitive student worrying about the colour of her skin and criticism from anonymous trolls to successful fashion blogger - slaying every single day.
"Growing up...I loved fashion," Santoshi writes on Facebook. "I used to enjoy being unique and standing out of the crowd - it was just a part of my personality, which often led me to being misunderstood."
"I randomly heard about Instagram from someone at college and realised that I couldn't even download it on my Nokia phone - it was only available on Android and iOS! So whenever I wanted to post about something, I would borrow my dad's phone and quickly upload to my account," she says.
"I began to combine my love for architecture and fashion to create my content, I built my own website from scratch and what started off as my passion became a full-fledged career"
Santoshi explains how she was would initially get discouraged by a simple 'dislike' on a social media post. "So many times people have commented on my photos saying, 'She's so dark, how is she a blogger?', or 'I've met her, she's much darker than this photo.'"
Slowly, she began to become comfortable with herself - "scars, skin colour and criticism alike."
"I loved myself so fiercely that the world had no option but to accept and love me as well," she says.
"I've been on the cover of magazines, I've won awards, I travel solo for work internationally and most importantly, I'm financially independent. All of this because, I decided to love myself as is and didn't wait for acceptance - I demanded it."
And people are loving her positivity.
"You see that look on her face? That's what you get when you win after overcoming all the hardships. You rock Ms. Shetty. You absolutely do," comments Mayank Sanjeev Saxena on the Facebook post.
"Chase your dreams, young lady," writes Irach Taraporewala. "You are in control and have the total, true mastery; you are the architect of your own destiny!"
Read the post in its entirety below:
Kuch toh log kahenge, logon ka kaam hai kehna.
Roughly translated, it means people will always find something to say about you. And no, it won't always be positive. While you can't control what people may say, you can control how you choose to react. As Santoshi says, it all begins with loving yourself "fiercely" enough to not let things people say bring you down.
Click
here for more trending stories
.