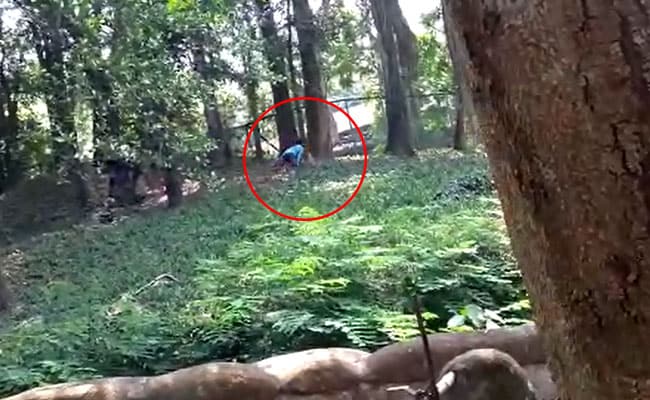 Thiruvananthapuram, Kerala:
Shocking mobile phone footage shows a man jump into an open enclosure housing lions at the Thiruvananthapuram Zoo on Wednesday. The footage, filmed by a visitor at the zoo, shows the man crawl towards a lion's cage. Within seconds, however, he is overpowered by security officials who drag him away to safety. According to
Manorama News
, the man's family had reported him missing two days ago.
Police say the man, identified as Murugan, scaled a barbed fence, jumped over a short wall and crossed a moat towards what appears to be the lion's cage this morning around 11 AM. On seeing this, another visitor immediately alerted zoo workers.
Mathrubhumi
quotes eyewitnesses as saying that the lion had nearly closed in on the man seconds before he was rescued. However, the alleged face-off was not caught on camera.
The footage shows a man in a khaki uniform quietly catch up to Murugan, who is seen crawling towards the lion's cage. He then lunges forward, grabs Murugan and drags him away from the cage. Within seconds, four other men in uniforms come to help him and carry Murugan to safety.
A team of firefighters reportedly helped in the efforts to rescue Murugan.
#WATCH: Man enters Lion enclosure at Thiruvananthapuram Zoo. Later stopped & removed by zoo officials. pic.twitter.com/CU7AxijWBs

— ANI (@ANI) February 21, 2018
Murugan's family had reported him missing two days ago and had published a notice in local newspapers, reports Manorama News. At the zoo, he was even seen wearing the same blue shirt and white
mundu
, a garment traditionally worn around the waist in Kerala, as described in the newspaper ad.
Murugan has been sent to a state-run hospital where he is currently undergoing assessment.
Police officers, meanwhile, are trying to determine the reason for his dangerous and bizarre behaviour.
(With inputs from IANS)
Click for more
trending news