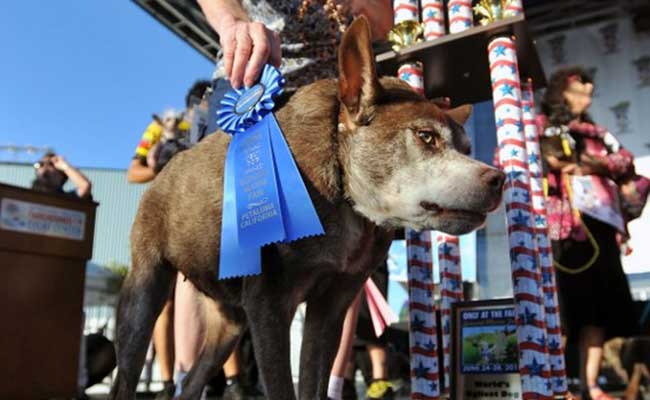 Los Angeles:
Quasi Modo, a dog who looks like a hyena and has spinal birth defects that have left him hunchbacked, has won the title of the 'World's Ugliest Dog' for epitomising "excellence in ugliness".
Quasi Modo, the 10-year-old pit bull-Dutch shepherd mix dog from Loxahatcheee, Florida, won the USD 1,500 prize this year against a field of 26 other candidates.
After much deliberation, worthy of a national beauty contest, and tabulation by an independent auditor, Quasi Modo, who looks like a hyena to some, was selected because he "epitomised excellence in ugliness", according to Chief Judge Brian Sobel.
More than 500 spectators clapped and cheered as the 27 underdogs proudly walked the red carpet and strutted their stuff across the stage in Petaluma, California, on Friday.
The judges score the dogs on first impressions, unusual attributes, natural ugliness, personality and audience impression, according to the event's website.
"We aren't interested in lineage, it's the inner beauty and personality that shine in our World's Ugliest Dog contest," Karen Spencer, marketing director for Sonoma-Marin Fair, which organises the event, was quoted as saying by CNN.
The first runner-up was Sweepee Rambo, a Chinese crested Chihuahua, who takes pride in her soft freckled skin and blond mohawk.
The second runner-up was Frodo, a 12.5-year-old Chinese crested hairless-Chihuahua mix from Sparks, Nevada, who loves to be bossy, according to his official biography.
As many of the homely hounds, including this year's ugliest, come from shelters and puppy mills, the contest aims to encourage adoption of dogs regardless of their physical shortcomings.
Quasi Modo's owner found him at an animal shelter, according to his biography on the contest's website.
"Luckily, one of the veterinarians there saw the sparkle in my eyes and took me home," his biography said.
He has multiple birth defects to his spine and his back is too short for the rest of his body.
"In spite of this I still run, play and enjoy life to the fullest," Quasi Modo's bio said.
"My appearance can be a little unsettling to some (I have had grown men jump on top of their cars to get away from me because they thought I was a hyena or Tasmanian devil) but once they get to know me I win them over with my bubbly personality," it said.
The Spirit Award was presented to Precious, an 8-year-old Chihuahua from Petaluma, for visiting disabled veterans with her owner. Precious has a "sight issue" from the vet putting wrong drops in her eye as a puppy, according to her bio.
The contest, held at the Sonoma-Marin Fairgrounds in Petaluma, is in its 27th year.