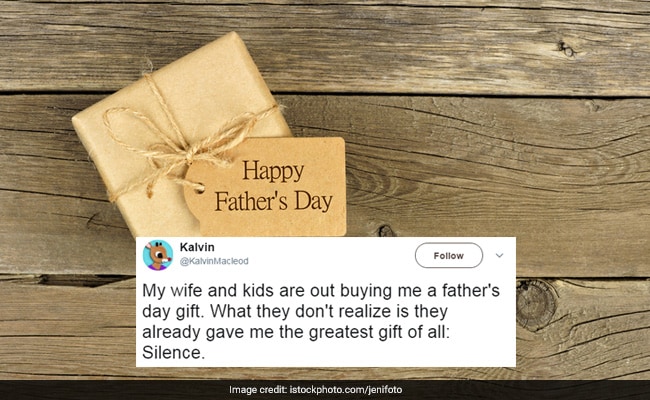 New Delhi:
Father's Day - a day you set aside for your dad, when you pamper him with gifts and put up posts on social media dedicated to him. Or you could just send him this list of funny Father's Day tweets to give him a chuckle. These one-liners on fatherhood and being a father, by dads and for dads, are sure to bring a smile to his face. So go ahead and share these funny Father's Day tweets with him - and make his day even better.
Now that the kids are asleep I can enjoy Father's Day.

- Michael Ian Black (@michaelianblack) June 18, 2012
My 4 yr old son gave me a hand made card for Father's Day. Maybe for Christmas I'll draw him a picture of some toys.

- Jim Gaffigan (@JimGaffigan) June 20, 2010
8am.
9yo: Dad! Have you seen my iPad? Oh... And happy Father's Day.
Glad I made it in the top two of his priorities today.

- No Idea: Daddy Blog (@byclintedwards) June 19, 2016
On our 6am walk, my daughter asked where the moon goes each morning. I let her know it's in heaven, visiting daddy's freedom.

- Ryan Reynolds (@VancityReynolds) October 16, 2016
Being a father is thankless except for one day a year when a child gives you a bad tie you paid for. Happy Father's Day.

- Mike Birbiglia (@birbigs) June 16, 2013
My wife and kids are out buying me a father's day gift. What they don't realize is they already gave me the greatest gift of all: Silence.

- Kalvin (@KalvinMacleod) June 20, 2015
I don't care what my kids get me for Father's Day as long as it's a hammock

- Qwerty Jones (@QwertyJones3) June 18, 2016
A thoughtful way to honor your dad on Father's Day is to post a picture of him on a social media site that he doesn't know how to use.

- OhNoSheTwitnt (@OhNoSheTwitnt) June 21, 2015
Get your dad what he really wants this Father's Day by turning off the lights when you leave a room.

- Mike Primavera (@primawesome) June 18, 2015
And this is why we love our dads
My 6 yr old thinks she can make things ok, after throwing a huge tantrum, by making me a bouquet of weeds.

And...she's right. pic.twitter.com/4DFtAWAyfE

- Fowl Language Comics (@fowlcomics) June 11, 2017
And in case your dad is still looking for more laughs, do show him this priceless video of a young girl and her
Father's Day gift
.
Click for more
trending news