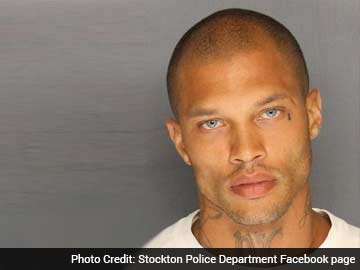 Jeremy Meeks, a 30 year old man, convicted felon, arrested for felony weapon charges by the Stockton Police Department has made hearts flutter with his light blue eyes, high cheek bones, chiseled face and tattooed neck.
This unhoped for response on social media is as strange as it is funny. Sample some of the comments on Meeks's picture on Stockton Police Department's Facebook page:
Nicole Paletta - He makes being bad look so good ! lol
Maria Isabel Martinez - Cute!!!!!!!!! The most beautiful man in the planet.
Katerina Kate Koleski - Congrats to the photographer, beautiful lightning
Charity Nngwenya - Model in waiting
Ilana Wade Swannell - Someone from a modelling agency should take him out of this criminal life .. too gorgeous what a waste