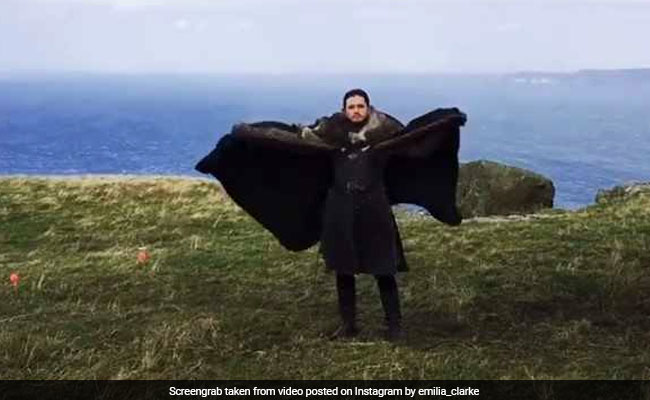 If you can make it past this goofy video of Kit Harington pretending to be a dragon without laughing, you sure deserve an award, for even Emilia Clarke, his co-star in Game of Thrones as Daenerys Targaryen, Mother of Dragons, Khaleesi of the Great Grass Sea, Breaker of Chains and more, can't do that. Emilia Clarke's video of Harington, who plays Jon Snow in Game of Thrones, pretending to be a dragon, has been winning the Internet. It has been viewed over 7.3 million times in just 11 hours!
The video shows Harington hilariously flapping his cloak like a dragon's wings even as Clarke giggles in the background.
Check it out below:
Perhaps even more than the hilarious video is Clarke's caption that has Game of Thrones fans in splits.
"I mean, JEEEZE, one pet of a dragon and he thinks he's one of them," she writes, referring to the scene in
season 7, episode 5
where Jon Snow pets Drogon. The video itself appears to have been shot where the scene took place.
Following the caption are several joking hashtags, including the now iconic line, "You know nothing, Jon Snow."
Fans of the two actors, meanwhile, can't stop raving about the video. "I laughed so hard at this," writes one user on Instagram. "Ahahhahahahh I love him! More please!" says another.
What do you think of the video? Let us know using the comments section below.
Click for more
trending news