Two young brothers learnt you can't prank call police officers the hard way. After placing 25 prank calls to the Fulshear Police in Texas, US, the mischievous boys were forced to hand over written apologies to the cops by their mortified mother. Luckily, the cops found the whole situation pretty funny. They even posted pictures of the apology notes on their
official Facebook page
and they make for a hilarious read.
Sharing the adorable handwritten apology notes on Facebook on July 8, the
Fulshear Police Department
explained that the two elementary school-aged boys were hauled in to the police station by their mother. According to the Facebook post, the brothers were "getting a little bored" during their summer holidays and "figured out a way to relieve the boredom."
"I thought that it was funny, to call you and try to send you to the wrong house, to make you think that the people in that house did it, and because I did not want to go to bed," wrote one of the brothers in the apology note.
"Please forgive me. I will do anything to get out of jail if you send me there. I promise not to do it again. I want to stay home," wrote the other.
Fortunately, it appears their apologies were accepted by the police officers.
"We all make mistakes, it's how we own those mistakes that makes us whole again," the Fulshear Police Department wrote on Facebook.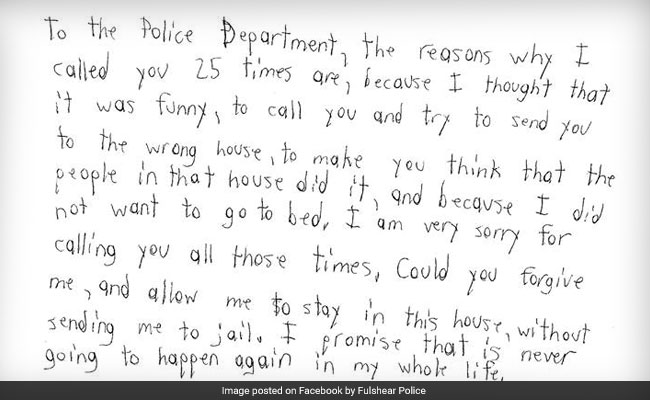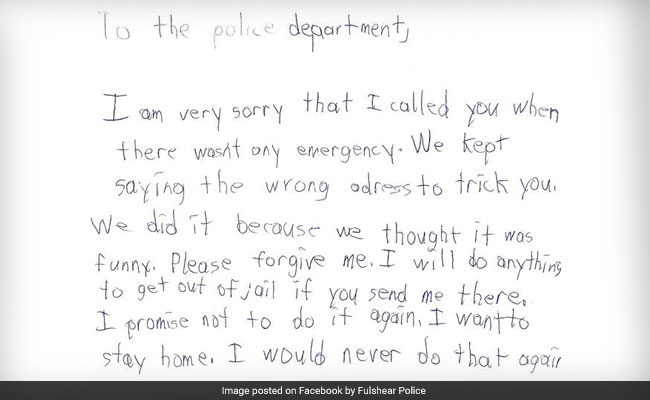 The sincere apologies are winning hearts on the Internet as well. "Pretty good spelling and grammar. I think you should forgive," comments one person on the Facebook
post
. "Good parenting. Great policing," writes another. Click for more
trending news
Get the latest election news, live updates and election schedule for Lok Sabha Elections 2019 on ndtv.com/elections. Like us on Facebook or follow us on Twitter and Instagram for updates from each of the 543 parliamentary seats for the 2019 Indian general elections.