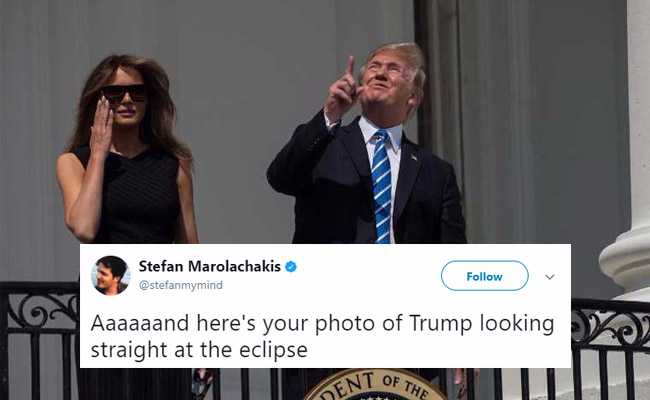 US President Donald Trump was photographed briefly looking up directly at the sun from the balcony of the White House during the partial solar eclipse on Monday. Thanks to Twitter, that moment instantly became a meme. Scientists had issued stern warnings that looking directly at the sun during the eclipse could result in permanent eye damage. According to reporters present at the White House,
Mr Trump briefly squinted up at the sun
, sans glasses, despite a shouted warning from an aide. His family, including First Lady Melania Trump and son Barron, were by his side looking up at the sky while wearing special protective glasses. Mr Trump was later photographed wearing the glasses as well.
The sun disappeared behind the moon in a rare total solar eclipse that was seen coast-to-coast across the United States for the first time in nearly a century on Monday. Washington DC, however, only witnessed a partial solar eclipse.
Aaaaaand here's your photo of Trump looking straight at the eclipse pic.twitter.com/5vv6sVTDIl

— Stefan Marolachakis (@stefanmymind) August 21, 2017
According to reporters, a White House aide standing beneath the balcony shouted, "Don't look."
As he did this, someone in a crowd of aides below shouted "Don't look." pic.twitter.com/dtfSLEzcAZ

— Ted Mann (@TMannWSJ) August 21, 2017
Someone shouts "don't look" as Pres. Trump looks up without eclipse glasses on as solar eclipse passes over D.C. https://t.co/5ft70fm30Rpic.twitter.com/0lAkuzF9RZ

— ABC News (@ABC) August 21, 2017
On Twitter, people weren't particularly surprised. Some, in fact, had predicted Mr Trump would do exactly that:
I cannot handle this right now. pic.twitter.com/JXjuHH2ivA

— Jules (@jules_su) August 21, 2017
Literally everyone: please observe #SolarEclipse safely. do not stare into the sun directly, you WILL damage your eyes!!



Trump: pic.twitter.com/0TORBrdZpa— abdul (@Advil) August 21, 2017
Scientists: Don't look straight at sun during eclipse.
Trump: Hold my glasses. pic.twitter.com/3MySTJYq4d

— Dan Worthington (@danWorthington) August 21, 2017
It didn't take time for the moment to become a meme:
What doesn't kill you makes you stronger. #SolarEclipse2017pic.twitter.com/GKeTKjItjQ

— Tennessee (@TEN_GOP) August 21, 2017
Melania is me and Donald is my mom when we're in public and we see someone we know. pic.twitter.com/O9bwChGoKT

— Danielle Butcher (@DaniSButcher) August 21, 2017
August 21, 2017
U had the moon and the sun, but there was shade from both sides, many sides folks, believe me.

— Just Jaszee (@OhSoJaszee) August 21, 2017
Later, Mr Trump was photographed with the special viewing glasses on:
Exciting to watch the total eclipse with @potus today! #Eclipse2017pic.twitter.com/85Y8R4yJU7

— Melania Trump (@FLOTUS) August 21, 2017
Sharing the #Eclipse2017 experience with the President, First Lady & Cabinet Secretaries on the White House Truman Balcony. #STEM#NASApic.twitter.com/q0WbDVg9f3

— Ivanka Trump (@IvankaTrump) August 21, 2017
Click for more
trending news