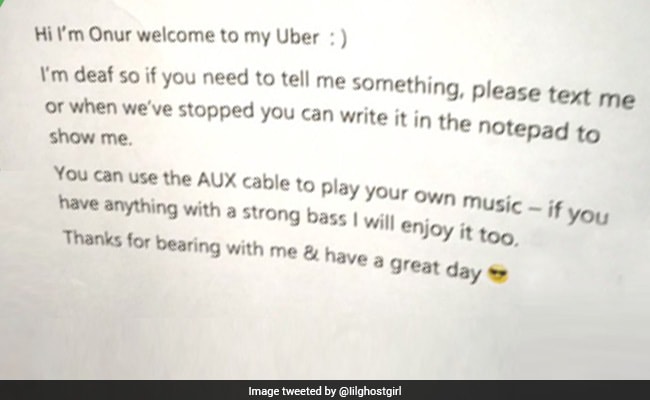 More often than not, cab rides are routine with no unexceptional experiences. It's just a way to get from point A to point B - often with little to no conversation with the driver. However, one woman's rather exceptional commute thanks to her Uber driver has gone all kinds of viral.
Seated in the backseat of her Uber, Twitter user @Iilghostgirl tweeted an image of a note the cab driver shares with all his passengers. The heartwarming note, posted on April 18, has collected over 5.4 lakh 'likes' and more than 1.3 retweets - and still very much counting.
THIS WAS THE PUREST THING WE LOVE ONUR pic.twitter.com/YkWCXjQYAt

- lil ghost girl (@Iilghostgirl) April 17, 2018
The viral tweet reached Onur as well, who couldn't help but tweet back
Thank you!!! :D

- Onur Kerey (@OnurKerey) April 18, 2018
ONUR!! thank u for an amazing uber ride. you blew up twitter !!

- lil ghost girl (@Iilghostgirl) April 19, 2018
Even Uber is proud of its driver
When a picture is worth much more than 1,000 words-thanks @lilghostgirl for sharing about your ride with @onurkerey. https://t.co/YXfAS2t4cL

- Uber (@Uber) April 20, 2018
Someone also tweeted this video:
some really useful things to learn in these cases is "Thank You" and Yes and No. Im taking ASL for these instances becuase so many instances where you need to communicate. Deaf people are useally pretty used to having to find a way to communicate but they appreciate the effort. pic.twitter.com/vWEa9eSBTk

- Jess (@JayCutess) April 19, 2018
The note has gone insanely viral and collected quite a few reactions from people on Twitter.
This has made our day!! Thanks for all the comments our whole family has been having a great time scrolling through BTW yes he is deaf, you don't need your ears to drive, flashing lights are used by emergency services for a reason & ofc he doesn't text & drive x

- Levze Kerey (@levkay) April 18, 2018
April 18, 2018
"IF YOU HAVE ANYTHING WITH A STRONG BASS I WILL ENJOY IT TOO" THATS THE SWEETEST WAY OF ASKING SO HE CAN ENJOY IT TOO

- Elyse (@elyse5612) April 19, 2018
Give dis man a raise

- Sam Bogg (@samj_bogg) April 18, 2018
I DON'T EVEN USE UBER AND I WANT A DRIVE W/ HIM

- Nick (@Neptune__Walker) April 18, 2018
Most uplifting tweet I have seen in a LONG time. Thanks for sharing.

- Greg (@GregskeC) April 19, 2018
Didn't this just make your day?Click for more
trending news