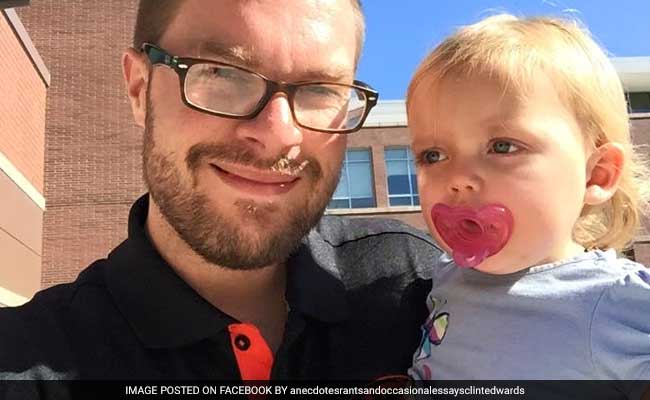 New Delhi:
Have you ever felt annoyed when a child seated in the row behind you on a flight begins howling? Ever had to deal with a screaming toddler in a movie theatre? Have you ever looked at the parents of a cranky, irritated toddler and thought, "If you can't control your child, go home!" At least a couple of times, we're sure. Well, blogger Clint Edwards's post on this challenging aspect of parenting is going viral - and with good reason.
When Mr Edwards went out for a family meal, his 2-year-old daughter began to act up because she wasn't allowed to throw her chicken strips. Screaming and kicking, she had to be dragged out of the restaurant by Mr Edwards.
"I carried her past the bar and everyone stared at me, most of them childless, I assumed. No one with children would give me that straight faced, lip twisted, look that seems to say, "if you can't control your kid, then don't go out,"' He writes.
He then goes on to address the judgmental stares that parents of young children know all too well.
"She's two and it's going to take years to teach her how to act appropriately in public, and the only way I am ever going to teach that is to take her out and show her what's right and wrong. By saying no a million times, letting her throw a fit, and telling her no again," writes Mr Edwards.
His post is an appeal, in part. He asks his readers to understand that it's not always possible to control a child who is bent on throwing a tantrum. "These lessons take patience, hard work, and real world experiences, and I'm sorry to those at the bar who got irritated by my child's fit, but you are part of this practice. Your parents did the same with you, and that's how you now know how to recognize when a child does something irritating in a restaurant. It's how you learned to look at a situation and say, "That parent needs to control their kids.'"
He makes an excellent point.
The post ends with Mr Edwards making a statement that's all too true: "You are looking at what it takes to turn a child into a person."
Since being shared on March 5, the post has been shared over 1 lakh times! It has also collected over 3 lakh reactions and more than 20,000 comments. A lot of the comments are of overwhelming support from other parents.
You can read the full post below:
Let us know what you think in the comments section below.