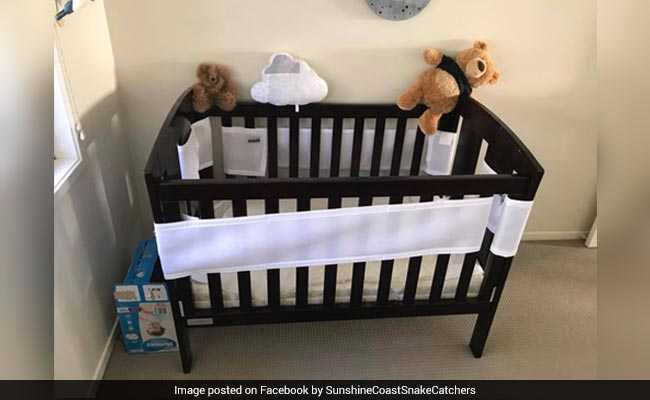 At first glance, this photo of a baby's room looks normal. There seems to be nothing out of the ordinary in the picture, except one very scary detail - there's a poisonous snake hiding in plain sight in the room. A dad, cleaning his baby's room, was in for a shock when he found a brown snake hiding in it. Now a picture of the room, posted by '
Sunshine Coast Snake Catchers 24/7
' on Facebook, is leaving several people baffled, wondering where the snake is hiding.
"Not a good place to find a snake!" says the post accompanying the photo. According to it, a resident at the Little Mountain suburb in Queensland, Australia, called in for help after spotting the snake in his baby's room. When the team arrived they identified it as "a mildly venomous Yellow-faced Whipsnake". But can you tell where the snake is in this photo?
Since being shared on August 13, the post has collected a ton of reactions on Facebook. The comments section of the post is flooded with people asking about the snake.
"Not sure where it is but it's already killed the poor old teddy on the right," says one Facebook user on the photo. "I can't find it. Starting to question decision to move to the Sunshine Coast," says another.
In case you still haven't spotted the snake, here's a picture that shows exactly where it is.
Another photo posted in the comments thread shows the snake after it was pulled out from its hiding place.
Wouldn't want that in your baby's or any other room, right?Click for more
trending news