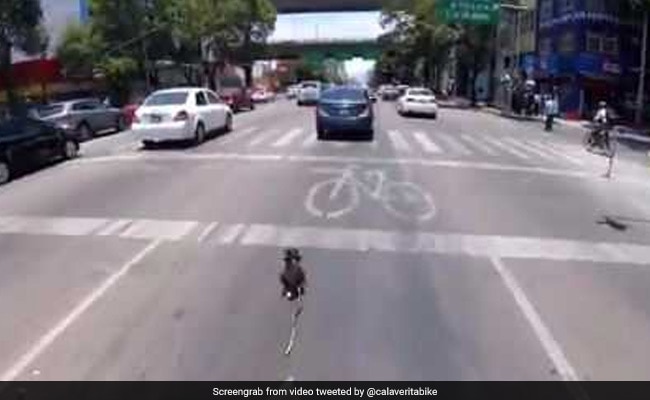 A runaway dog took a cyclist on a wild adventure down a crowded road as the latter had to chase it for over half a kilometre. Ironically, it wasn't even her dog.
The cyclist was riding down a busy road in Mexico when she spotted the little dog running towards traffic with its leash still attached to the collar. She immediately started following the dog in order to save it from the oncoming cars.
In the 2-minute long video taken from the cyclist's helmet camera, the dog is nearly run over several times while speeding through traffic. The cyclist frantically keeps chasing the undeterred pooch that keeps running tirelessly for several blocks.
The cyclist, who can't be seen in the video, asks bystanders for help to catch the runaway canine. After several close calls and multiple attempts by people, one man walking on a street grabs hold of the dog's leash.
"Gracias," the cyclist thanks the man after the exhausting chase.
Cuiden a sus mascotas!! que hubieran hecho ustedes?(al final si encontr al dueo) pic.twitter.com/w5K54kMV6x

— Calaveritabike (@calaveritabike) June 20, 2017
The cyclist won lots of praise online for rescuing the dog from a potentially dangerous situation. Within a day, the video was shared over 9,300 times on Twitter.
It's not mentioned why the dog ran away but the video says she eventually found its owner.
Another person posted surveillance footage of the cyclist pursuing the dog.
El @GobCDMX dio a conocer estas imgenes de la ciclista que salv a un perrito en avenida Revolucin #enPuntopic.twitter.com/T0l0XhOkrD

— Denise Maerker (@DeniseMaerker) June 22, 2017
A Mexican airline even honoured her with some free air tickets.
Gracias a todos ya encontramos a nuestra herona: @calaveritabike y le vamos a regalar un vuelo doble a cualquier destino Volaris. pic.twitter.com/aHTPDtFVoQ

— Volaris (@viajaVolaris) June 21, 2017
And for the dog, hope he doesn't run away again.Click for more
trending news