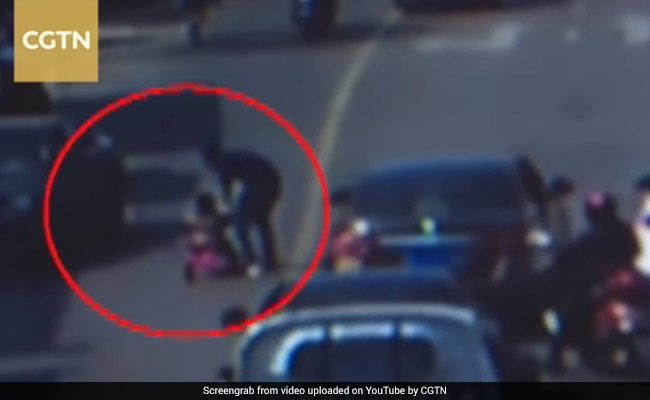 Surveillance cameras in China captured the terrifying moment a toddler rode his tricycle right into rush-hour traffic. Footage
posted on YouTube by CGTN
shows the child nonchalantly riding his tricycle into traffic as vehicles swerve to avoid him. Miraculously, the child manages to survive the ordeal, thanks to an alert couple who noticed the child in time.
The video shows the child pedaling his tricycle onto the busy road as drivers swiftly maneuver their vehicles away from the boy. But the drivers fail to stop their vehicles to save the child. Eventually, a person appears to stop his car and rushes to stop the boy and direct him away from traffic. According to CGTN, police officers helped reunite the boy with his parents.
The incident took place on March 12 in the city of Wenzhou located in eastern China's Zhejiang province, reports CGTN.
Watch the CCTV footage below:
The shocking incident is eerily familiar to an incident that took place in the same Chinese province two years ago.
Then, a
toddler drove his toy car onto the road
, right in the middle of rush hour traffic. Fortunately, a vigilant traffic officer stepped in to save him from a situation that could have ended in tragedy. It was all caught on CCTV.
According to the World Health Organization, over 10,000 children die annually in road accidents in China.Click for more
trending news