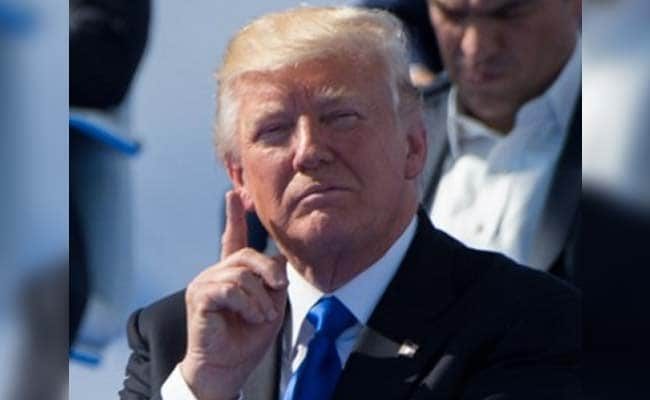 Did the president of the United States, Donald Trump, shove a world leader out of his way in an attempt to end up in the front of a group of NATO leaders? That's the question that many have been asking on social media after this startling clip went viral overnight.
US President @realDonaldTrump shoves Montenegro's PM to get to the front at @NATO meeting pic.twitter.com/QqgJXvk3M9

— People's Daily,China (@PDChina) May 25, 2017
In the clip, Mr Trump appears to be pushing aside the prime minister of Montenegro, Dusko Markovic, in order to get in the front row of a 'family portrait' of NATO leaders in Brussels, Belgium.
Mr Trump emerges from behind Mr Markovic and slaps him hard on the arm. Mr Markovic seems startled at first but then smiles and makes way for Mr Trump, who then looks around and adjusts his blazer.
Here's the moment again, this time, in slow motion:
Slo-mo: Trump appears to push aside/shove another NATO leader to get to the front of the group. pic.twitter.com/K0OC6QnEL4

— Steve Kopack (@SteveKopack) May 25, 2017
According to the
Daily Mail
, Montenegro's Prime Minister brushed off the incident as "harmless."
"It didn't really register. I just saw reactions about it on social networks," he was reported saying while talking to the media. "It is simply a harmless situation."
On social media, among Mr Trump's most vocal critics was author JK Rowling, the creator of
Harry Potter
.
"You tiny, tiny, tiny little man," she tweeted, along with a GIF of the incident.
You tiny, tiny, tiny little man.
pic.twitter.com/mP3mad6cMt

— J.K. Rowling (@jk_rowling) May 25, 2017
Trump truly taking "America First" to heart - willing to literally push aside world leaders to stand in front. https://t.co/L4UEcZExjK

— Gavin Newsom (@GavinNewsom) May 25, 2017
A Washington Post reporter tried to offer an explanation for the bizarre moment, tweeting that the places for the 'family portrait' were predetermined:
Trump's spot at center of photo was predetermined, based on NATO protocol. Alphabetical order. US always front/center, next to UK. https://t.co/zEWPvYDVKi

— Philip Rucker (@PhilipRucker) May 25, 2017
But people still had questions
@PhilipRucker Yes, which makes it all the more curious why he had to move the Montenegro PM aside

— David Martosko (@dmartosko) May 25, 2017
The Daily Mail
also reports that NATO's official seating chart puts the US in the front row and Montenegro, which is in the process of formally joining the military alliance, in the corner.
@SteveKopack He should be in the front!! We pay the most @David_Brody

— BigP (@KingBartow) May 25, 2017
@carlquintanilla@SnowflakingHard@SteveKopack@CNN@hblodget@SaraEisen In fairness, that particular NATO leader probably hadn't paid his 2%

— Jon Fortt (@jonfortt) May 25, 2017
@KingBartow@SteveKopack He should be in the back because we don't need the spotlight or he should say "excuse me" not shove a guy and not acknowledge it.

— David Brody (@David_Brody) May 25, 2017
Former official White House photographer
Pete Souza
posted this old photo showing Barack Obama sharing a light moment with NATO leaders. The caption? "Laughter at the 2012 NATO Summit. No jostling involved."
Earlier in the day, Mr Trump shared a much talked about
handshake
with French President Emmanuel Macron, just before the NATO summit was set to start. Click for more
trending news