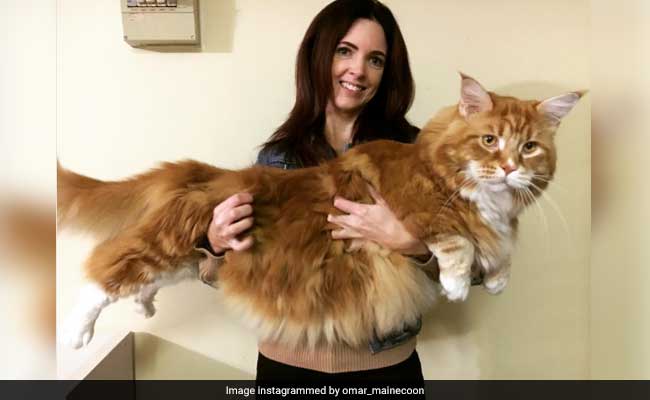 New Delhi:
Omar the cat is nearly four feet long and officials from Guinness World Records believe he may be the world's longest domestic cat. Omar, who lives in Melbourne, Australia, recently became Instagram-famous, prompting the officials to reach out to Stephy Hirst, Omar's owner.
"At first I thought 'Is this real?'" the 29-year-old tells the
Herald Sun
.
Three-year-old Omar already weighs 14 kilograms and measures about 3 feet and 11 inches long.
The current record holder,
UK-based Ludo
, is 3 feet and 10.6 inches long.
Ms Hirst started an
Instagram account for Omar
two weeks ago. A picture of them was re-posted by the popular
Cats of Instagram
account a week ago. It has been "liked" over 272,500 times.
"He hasn't really been coping with all the attention," Ms Hirst tells the
BBC
.
Ms Hirst says Omar was a regular-sized kitten when she got him, but quickly grew to be about 10 kilograms by the time he was a year old. That's when she suspected he may be one of the world's longest domestic cats.
"We thought he might be (the longest cat in the world) but we hadn't done anything about it because he might not be fully grown yet," she tells the Herald Sun.
Here's a younger Omar with his "big sister" Penny:
Ms Hirst writes Omar is now "more than twice as big as Penny."
The BBC reports that Guinness representatives in London have confirmed receiving an application "from Omar and his family."
But being Instagram-famous, or even world-famous, doesn't seem to be high on Omar's list of priorities.
"He's just looking forward to napping on the trampoline, chowing down on some more kangaroo and trying to keep us awake at night," Ms Hirst tells the BBC.
"I think he'll be glad to go back to being a normal housecat."Click for more
trending news