US President
Donald Trump had Twitter buzzing
after bungling a carefully choreographed photo op at the Association of Southeast Asian Nations (ASEAN) summit in Manila, Philippines on Monday. But while
social media zeroed in on Mr Trump
for failing to grasp whose hands he was supposed to be holding and breaking a lineup intended to showcase unity, many missed one other world leader who didn't even try particularly hard to get the traditional crossover handshake right.
Turns out, there was more than one confused world leader at the ASEAN summit photo op.
Take a closer look at Russian Prime Minister Dmitry Medvedev on the left.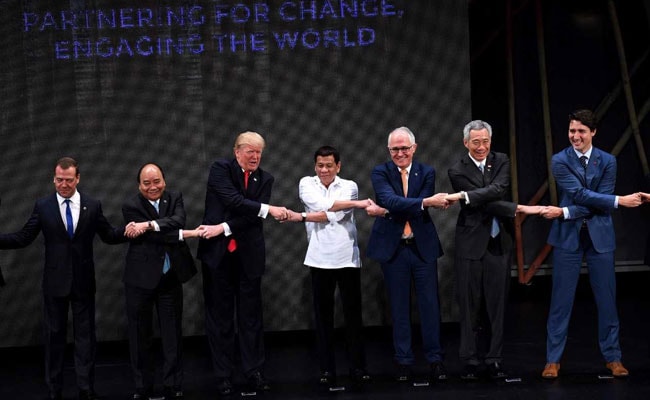 The concept of the traditional crossover handshake for the ASEAN 'family' photo is pretty straightforward.
Each leader crosses his or her arms and join hands with the world leaders on either side.
And while almost all the politicians on stage managed to reach out and clutch the hands of the person to their left and right, both Mr Trump and Mr Medvedev didn't.
Initially, Mr Trump used both his hands to clasp the extended fingers of Vietnam's Prime Minister Nguyen Xuan Phuc.
That left ASEAN summit host Philippine President Rodrigo Duterte with a spare hand - and broke the line into two parts. Awkward.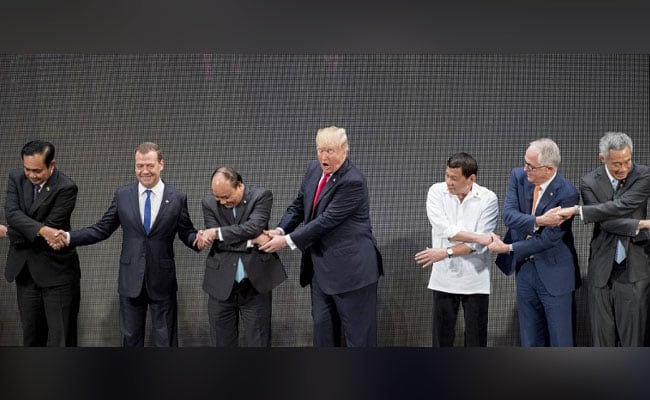 And while it took more than a few seconds for him to recognise his error, Mr Trump finally made the link between Mr Nguyen and Mr Duterte.
The Russian PM, on the other hand, simply didn't.
Leaders of ASEAN and its Dialogue Partners do the #ASEAN way for their photo op at the opening of 31st #ASEANSummit in #Manila today. pic.twitter.com/Fj8TTxaYVP

— ASEAN (@ASEAN) November 13, 2017
Whether Mr Medvedev's handshake gaffe was deliberate or accidental remains unclear. But pictures show the Russian leader smiling widely with his arms outstretched, despite his faux-pas. Twitter eventually caught on to the goof-up and had a good laugh.
The official #Asean2017 handshake. Link almost failed to connect, but #POTUS#DonaldTrump used his felxibility skills while #Russian PM #Medvedev took a shortcut by not crossing his arms. #aseanmomentspic.twitter.com/1JMY8SP5If

— Karen Jimeno (@AttyKarenJimeno) November 13, 2017
Trump tries hard to do the #ASEAN handshake, while Russia's Medvedev cheats!#ASEANSummit#Manila#Philippines#Dutertepic.twitter.com/zhM0aFRDuS

— Trump vs. Globalism (@chrisk2000) November 13, 2017
Looks like Trump beat Medvedev in the ASEAN handshake game at least. https://t.co/jYu4FbZk17

— Adam Taylor (@mradamtaylor) November 13, 2017
Is that Medvedev who isn't playing along and, actually, emerges as the winner? https://t.co/1zBIXcLjz7

— David Nakamura (@DavidNakamura) November 13, 2017
Looks like Russian Prime Minister Medvedev (2nd from left) has it all figured out! pic.twitter.com/NlPOwd2yrT

— Tony Valentino (@tonyv561) November 13, 2017
Mr Trump's handshakes with world leaders frequently make headlines and Monday's incident at the ASEAN summit brought back
memories of previous awkward encounters
. Click for more
trending news
Get Breaking news, live coverage, and Latest News from India and around the world on NDTV.com. Catch all the Live TV action on NDTV 24x7 and NDTV India. Like us on Facebook or follow us on Twitter and Instagram for latest news and live news updates.