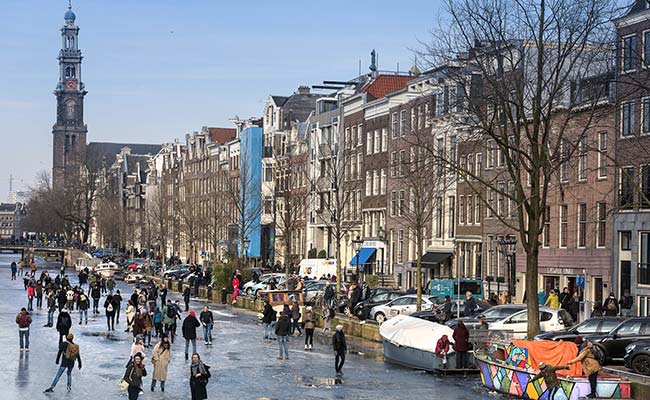 Europe is witnessing unusually cold weather thanks to the 'Beast from the East', a deadly deep freeze that has engulfed countries from far north to the Mediterranean south. In Netherlands, where it has been named the 'Siberian Bear', the sub-freezing mercury levels have resulted in some of Amsterdam's popular canals turning to ice. Locals and tourists are making the most by ice skating on the now frozen canals, something they last enjoyed in 2012. Prinsengracht (Prince's canal) and Keizersgracht (Emperor's canal) are two of the three main canals in Amsterdam. As the canals froze over, the ice was thick enough for people to go skating and even play ice hockey, reported
The Guardian
. Some even took their pets for a walk on the icy surface. According to
Daily Mail
, water authorities blocked the movement of boats on some of the canals to let the ice get thick enough.
Social media has been bustling with photos and videos of people gliding or walking on what used to be waterways till a week ago.
A rare sight today: people ice skating on the canals of Amsterdam. pic.twitter.com/ODfUdgjaBh

— Gosse Bouma (@Gosserd) March 2, 2018
went ice skating on the canals in amsterdam!!! pic.twitter.com/iyloMIbQHi

— j (@kiwikinda) March 2, 2018
#skating on the #canals in #Delftpic.twitter.com/htuMwkvMdf

— Riccardo MG Ferrari (@CionnRatz) March 2, 2018
I aim to someday have the confidence of dutchies skating on a frozen canal at night. pic.twitter.com/WODIP3qiu9

— Stephanie Nemeth (@stephaniecodes) March 2, 2018
On Thursday, before the ice was thick enough, two skaters fell through thin ice on the Prinsengracht canal in Amsterdam. While one of them managed to get out of the water on his own, the other was rescued by a local, reports
NLtimes
.
In other parts of Netherlands and Europe, the 'beast' has wreaked havoc with flight cancellations across several European airports. While conditions improved over the weekend, temperatures remained below zero.
Over the past week, the deep freeze has claimed more than 60 lives, according to an AFP toll, including 23 in Poland, seven in Slovakia, six in the Czech Republic and five in Lithuania.
(With AFP inputs)
Click for more
trending news