New Delhi:
Highlights
Keyur Joshi tweeted against Centre's ban on sale of cattle for slaughter
Mr Joshi is the co-founder of Make My Trip
#BoycottMakeMyTrip became a top trend on Twitter last night
Last night, #BoycottMakeMyTrip was a top twitter trend after a tweet by Keyur Joshi, the co-founder of Make My Trip, protested the Centre's ban on the sale of cattle for slaughter. The tweet was posted on Wednesday from an unverified account.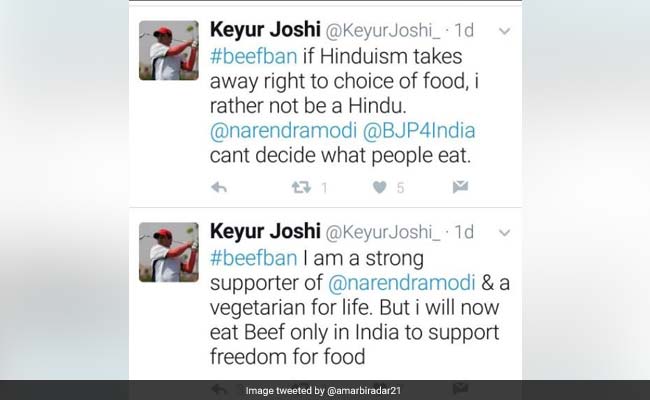 "#beefban If Hinduism takes away right of choice of food, I rather not be a Hindu. @narendramodi @BJP4India can't decide what people eat," read one tweet.
@makemytrip After hearing the views of your cofounder I rather prefer to get offers expensive than using your app #boycottMMT

— abhineet anand (@abhineet_anand2) May 31, 2017
#Keyurjoshi u eat what u want, u follow whichever religion u want, I'll nt use @makemytrip for rest of my life. @makemytripcare#BoycottMMT

— Brijesh Kumar Yadav (@brijdreams) May 31, 2017
Hours later, Mr Joshi, who helped found the online travel booking company in 2000, apologised for his earlier remark and then deleted his account.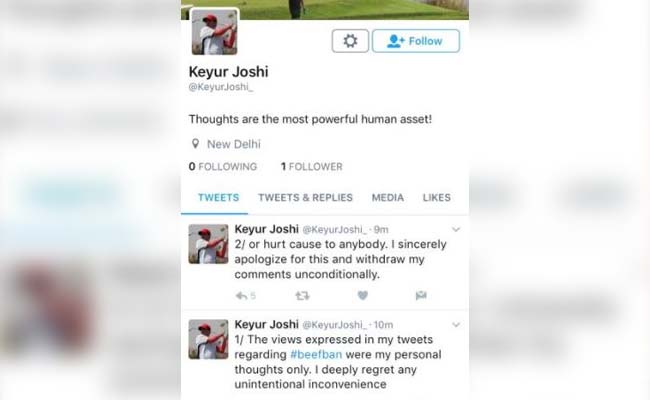 There were some tweets in support of him as well.
Can't a person state his point of view and we can just accept it...if we uninstall MMT now...no1 will speak their mind again. #BoycottMMT

— i| (@iamssunill) May 31, 2017
Deleting @keyurjoshi_ handle is not the solution to the problem. this shoot and scoot strategy will not work #BoycottMMT#BoycottMakeMyTrip

— Hindustani Warrior (@GlobalHindu2020) June 1, 2017
Make My Trip distanced themselves from Mr Joshi's views and said he was not a current employee of the company.
The views expressed by Mr.Joshi on Twitter are his personal thoughts & do not reflect the views of MMT. He is not a current employee of MMT

— MakeMyTrip.com (@makemytrip) May 31, 2017
But many on Twitter pointed out that Keyur Joshi was still listed as part of the board directors on the company's
website
. The website says Keyur Joshi is the Co-Founder and Chief Strategic Advisor at Make My Trip.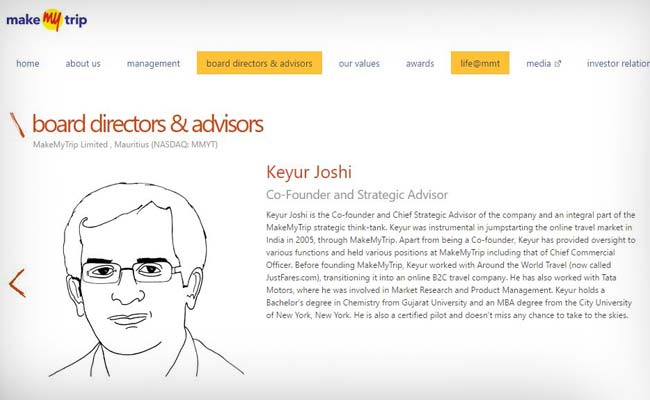 Last week, the government said that cattle including camel and buffaloes cannot be traded for sale at open animal markets. States like Bengal and Kerala say the diktat violates their authority and the ban has been challenged in different courts. The Madras High Court has suspended the ban for a month in Tamil Nadu but the Kerala High Court said yesterday there is nothing in the new decree that stops people from personally selling cattle for slaughter. Click for more
trending news
Get Breaking news, live coverage, and Latest News from India and around the world on NDTV.com. Catch all the Live TV action on NDTV 24x7 and NDTV India. Like us on Facebook or follow us on Twitter and Instagram for latest news and live news updates.