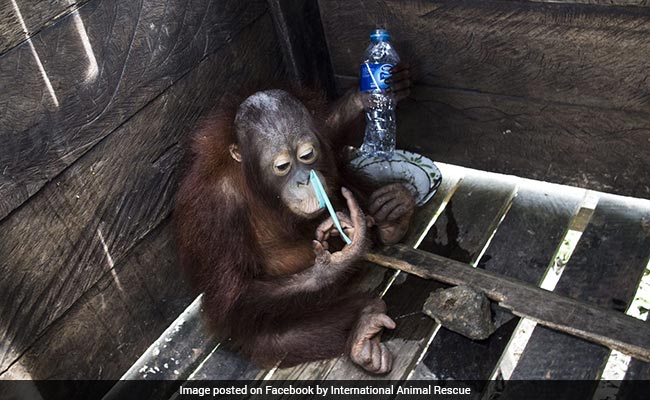 New Delhi:
After spending two years alone in a tiny, dark wooden cage, a 4-year-old orangutan was finally released by the International Animal Rescue in Indonesia. Kotap, the orangutan in question, was kept in a 10 sq ft box in Indonesia's West Kalimantan province by his owner, Baco. According to the International Animal Rescue, all he knew of the outside world were sounds of people passing by his wooden crate and occasional visits from his owner. In the video of his rescue, he can be seen hesitating as officials from the forestry department (BKSDA) of West Kalimantan try to coax him out.
When he was found, Kotap had nothing but a straw and a plastic bottle to amuse himself with.
His owner Baco claims that he was a gift from some men Baco had met in the village of Ketapang. Kotap was two when he was allegedly gifted to Baco, meaning that he had spent half his life shut up in a tiny wooden crate. "When the door of the box was opened and vet Uwi extended her hand to Kotap, at first he was frightened and ran to the back of the box where he couldn't be reached," says International Animal Rescue in their statement.
Fortunately, Kotap will now be taken to join other rescued orangutans at the Rescue's centre and will be given a chance of returning to the forest where he belongs.
Watch the heartwarming video of his rescue below:
Click
here for more trending stories.