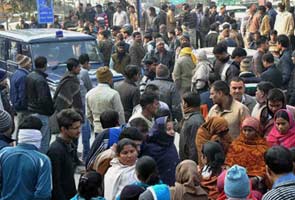 Noida:
Just days after the horrifying case of 23-year old medical student Amanat (NOT her real name), that shook the entire country and saw an explosion of outrage, very little seems to have changed on the ground.
Another shocking instance of a young woman being raped and murdered in the national capital region has emerged in the national capital region.
A 21-year-old woman, who had been missing since Friday night, was found stripped and dead near her house in Noida on Saturday. The police have registered a case of rape and murder against two persons in connection with the incident.
The victim, a resident of Chotpur colony, left office - she worked at an export house located in Sector 65 in Noida - at around 9 pm and headed home with four of her female colleagues, according to the police.
After reaching outside her colony, the victim's colleagues went their separate ways while she proceeded towards her house.
"Yesterday around 9 in the evening, she left on a scooty after her shift along with other girls. Others got off and she went ahead alone," said the father of the victim.
When she did not return till 10 pm, worried family members began a frantic search for her and also approached the cops. But they allege that the police did not take the matter seriously and refused to lodge a missing person complaint.
Her body was finally found on Saturday morning - stripped of all her clothing - on the roadside near Pushta area in Sector 63, with injury marks all over her body.
"In the morning we found a dead body of a woman in a remote area of Noida Sector 58. We investigated and after all the forensic tests we discovered her identity from neighbouring areas. We registered an official complaint after that under sections 302, 376, 201. Since the FIR mentioned suspected rape hence we have applied these charges. After the post mortem we are conducting further investigations. We have found two suspects in this case who are under our arrest and we are questioning them. Whoever is found responsible in this case will not be spared," said Praveen Kumar, Senior Superintendent of Police, Noida.