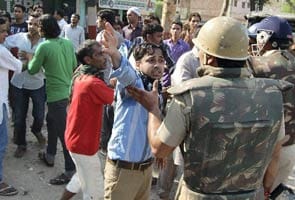 Muzaffarnagar:
Uttar Pradesh is on high alert and the state government said this evening that it has sought the help of the Army to control riots as today's death toll in communal violence in Muzaffarnagar district rose to nine.
A local TV journalist was among those killed as members of two communities clashed at different places in the western Uttar Pradesh district on Sunday.
Curfew has been imposed in the Mandi, Civil Lines and Kotwali police stations in Muzaffarnagar town and five companies each of the Provincial Armed Constabulary (PAC) and Rapid Action Force (RAF) have been deployed in the district.
A home department official said in Lucknow that Army personnel had been deployed in the riot-hit areas of the district to help the civil authorities maintain law and order. He said the Army's help had been sought as patrolling rural areas was becoming difficult.
Chief Minister Akhilesh Yadav has appealed for calm. "People should not pay attention to the rumours and exercise restraint. Whosoever has done this will not be allowed to go scot free," Mr Yadav said.
Violence broke out in the Kawal area of Muzaffarnagar this afternoon when members of a community returning from a panchayat meeting in Naglabadhod, three kilometres from Kawal, clashed with members of another community.
Rajiv Verma, who worked as a freelance television journalist, was reportedly caught in the crossfire at Meenakshi Chauraha.
In Sekeda village, a photographer who the police had hired, was beaten to death allegedly by a group of people returning from the Naglabadhod meeting, police sources said.
The Kawal area has been tense since August 27, when three young men belonging to the two communities, were murdered. Seventeen people were booked and one person was arrested.
Since then, the police has booked several politicians for allegedly making inflammatory speeches in the area. These included three Bahujan Samaj Party (BSP) leaders - an MP and two MLAs from Muzaffarnagar - and one Bharatiya Janata Party MLA from Meerut.
The police have also registered cases against 299 others for promoting enmity on religious grounds after they posted a fake video claiming it showed the young men being killed on social networking site Facebook.
The BJP and Congress have condemned the violence and said it is an "example of the government's failure".