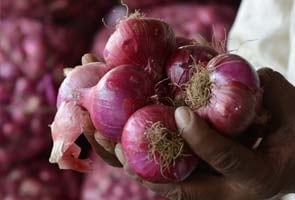 Nashik/Mumbai:
The surge in onion prices is driving people across the country to tears. The price of the vegetable has almost doubled from Rs. 16 per kilogram last month to Rs. 28 this month. In some places, like Delhi, it now costs between 30-35 rupees a kilogram. In wholesale markets, the prices of onions have gone up by more than 50 per cent since last month.
The reason for this sharp rise in prices is due to poor monsoons affecting crop output in major onion growing areas like Nashik district of Maharashtra.
Union Agriculture Minister Sharad Pawar, speaking to reporters on Friday, said, "We will look into the issue and take measures to bring the prices under control." The Opposition, meanwhile, has been quick to attack the government on this issue.
Maharashtra's Opposition leader in the Legislative Council Vinod Tawde told NDTV, "The poorest often subsist on roti, onion, and some chutney. This is their minimum diet. If the poor are not able to afford onions, it will be very difficult for them. The government has to do something, but is doing nothing."
The supply of onions is usually low during this time of the year, before the fresh winter crop hits the markets. But this year, there are signs of a major shortfall. The National Council of Applied Economic Research has forecast a 20 per cent drop in onion production for 2012-13.
Farmers in Nashik say they are helpless as they are dependent on the rains. Pandit Pingle, an onion farmer, told NDTV, "The price has gone up because there is a shortage of onions. The production of onions has gone down because there is a shortage of water."
Ramesh Wanjul, another onion farmer, adds, "The biggest problem is the shortage of water supply, which is poor. This is affecting crops."
Calls for a ban on the export of onions - so that supplies can be diverted to the domestic market and bring down prices - have already begun. Another option before the government is to import onions from Pakistan. But the agriculture ministry has not taken any concrete steps so far.
The issue of onion prices is an emotive one; in the past, governments have lost popular support over steep onion prices. The common man, while expecting some government intervention soon, is also hoping for a good winter crop to bring down the cost of this everyday kitchen staple.