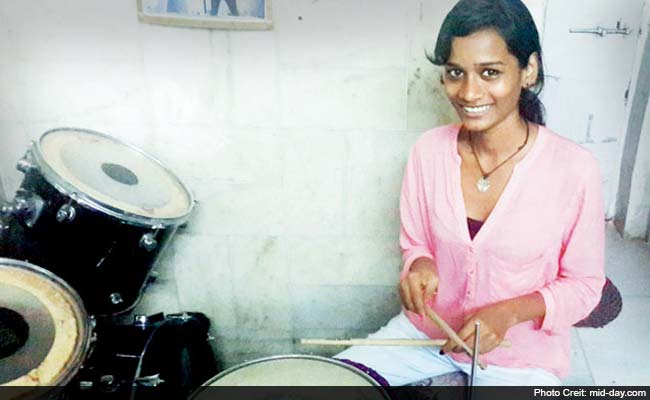 Mumbai:
Sheetal Jain was born to a sex worker in Kamathipura, but she did not let her address define her; the 19-year-old will now pursue her passion for drumming at a music school in Washington DC.
Ever since she was a child, Sheetal Jain was taught that a sex worker's daughter could only end up in the flesh trade. Living most of her life in the red-light district of Kamathipura, not knowing who her father is and even being at the receiving end of violence could not, however, convince the spunky teenager to accept this fate.
Instead, the 19-year-old is all set to travel to Washington DC and drum up a change in the lives of her ilk.
"I am in Std X and I love to dance and play drums. Sounds like a normal teenager's life? Yes, but I grew up in Kamathipura. I am the daughter of a commercial sex worker and I have never met my father. I'm still in Std X because I have only been to school for three years of my life. I faced a lot of violence and discrimination, but I have big dreams! I want to go to a music school in the US and get a drumming diploma so I can start music classes in red-light areas," says Sheetal.
Sheetal, who was found by the Kranti NGO, which works with kids of commercial sex workers, is about to live that dream. With the help of the NGO, she had applied for a year-long diploma in the US Drum School, Washington DC, was selected for it, and is about to embark on the journey of a lifetime on September 16.
Sheetal had recently got accepted in the Swaraj (Alternative) University in Udaipur, but when the NGO asked her what she wanted to do, she said, "My head says go to Swaraj, but my heart says pursue drumming." Since girls from her background rarely get the opportunity to chase their dreams, the NGO decided to help her do so. First, they looked for music schools in India, but the requirement was students who were Std X or XII pass. US schools, however, were much more open to the idea of a student like her. The programme is for one year and will cost US $8,000.

A different life
Sheetal currently lives in Marol with many other girls who have spent significant portions of their lives in red-light districts. Like all kids growing up in such areas, Sheetal never had access to things like education and healthcare, which other children take for granted. She claims that she was told that she could only become a sex worker and was never allowed to even dream of doing anything else.
After she came to Kranti, however, she studied, underwent therapy, and unleashed her ambitions. She also found her passion - playing drums.
"In the past 2 years, I have seen how powerful music can be as a tool for social change. I have seen people drumming to protest, drumming to fundraise and drumming to entertain. I want to do all of these things for my community. I also want the opportunity to live and study abroad - it has been a childhood dream, which I, as a sex worker's daughter, never thought would come true. But I believe an experience like this will help me as a person and aid me in helping others," said Sheetal.
Money trouble
The only thing standing in Sheetal's way is financing her trip, tuition and stay in the US. She requires nearly $20,000 (approximately Rs 12.1 lakh) to meet all these expenses.
Harish Iyer, an equal rights activist who is closely associated with Kranti, has taken up the mantle to raise awareness for Sheetal's cause and help fund her dream.
He has even started a campaign on Facebook, asking everyone to keep Sheetal's photo as their display picture for a day and to share her message.
"To add to the intrigue factor, I have started the 'Sheetal for a day' campaign on Facebook. I am urging people to change their profile picture to that of Sheetal and post a personal message from Sheetal as their status update. While the response has been good, there are some who suggested that she should go to some Indian institute instead.
While some are well-meaning suggestions, some of the comments smell of ridicule. It is our society that has pushed sex workers into closets of shame. It is our society that makes their trade a "cause". Thus, it is also our responsibility to not clip the wings of their dreams, but let them fly over the oceans to a destination of their choosing."
Kranti's co-founder, Robin Chaurasi, said, "Sheetal's been at Kranti for 2 years, and between 17 and 19 years of age, she's grown from a timid, shy girl with low self-esteem to a confident, courageous young woman. In the past two years, she has given speeches in front of audiences of 10,000 people on issues ranging from child sexual abuse to sex workers' rights.
We have created a GlobalGiving page for raising funds both for her fees and living costs. We will also be putting up a page on an Indian site in the next two days and someone has already pledged Rs 1 lakh towards her tuition."