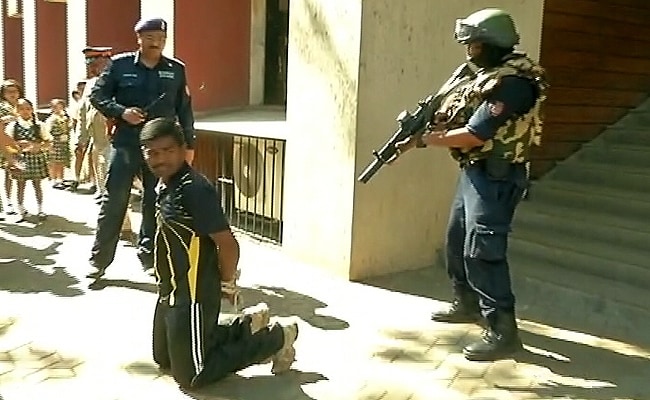 Mumbai:
Security drills are being conducted by Mumbai Police in schools across the city to prepare against and react to a terror attack, especially in the aftermath of last year's bloody massacre by the Taliban at an army school in Pakistan's Peshawar that left over 150 dead, most of them children.
NDTV has accessed footage which shows police preparing schools against possible
fidayeen
(suicide) attacks. During the course of this exercise, which began earlier this month, the police are testing the response time for emergencies, evacuation strategies and access given to outsiders.
"We have given instructions to schools to beef up security and the security measures have been modified according to each school's requirements," Mumbai Police Spokesperson Dhananjay Kulkarni told reporters.
(Mumbai Police conducting an anti-terror drill in a city school)
The move comes close on the heels of the Maharashtra Anti-Terrorism Squad (ATS) discovering an alleged plot to attack an American school in the city. The ATS, which arrested Anees Ansari, a 24-year-old software engineer from his office in suburban Andheri in October last, said he was planning to target US establishments including a school in suburban Bandra. The cyber cell of the ATS, which keeps a tab on online activities stumbled upon Ansari's plan after monitoring his online chats and posts on social media. The anti-terror unit, though, said that Ansari was nowhere near executing the attack.
Last month, the government had sent detailed instructions to schools across the country on how to prep against terror attacks where students could be taken hostage days after the Taliban attack on the Army Public School in Peshawar.
The advisory, which runs into five pages, was first issued in 2010 by the Centre after David Coleman Headley, who was arrested in the US, revealed that along with the landmarks that were targeted in the 2008 Mumbai attacks, he had photographed and videotaped two boarding schools for terror group Lashkar-e-Taiba.