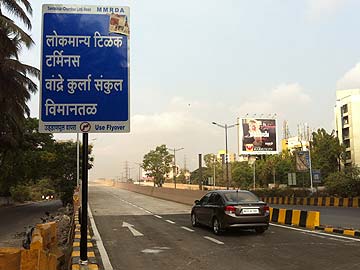 Mumbai:
After 10 long years, the 6.5-km Santa Cruz-Chembur Link Road was finally thrown open to public in Mumbai today. The road is expected to cut commuting time from nearly an hour to just ten minutes.
The project, which has already earned the embarrassing tag of being the 'world's most delayed road project', will provide crucial east-west connectivity in a linear city like Mumbai.
The road, which was due to open in 2004, has missed several deadlines. While the initial cost of the project was Rs 115 crore, it now stands at a whopping Rs 435 crore.
The road has a four-lane double-decker flyover, first of its kind in India. The project was delayed due to problems in rehabilitating a huge number of people and delay in construction of a bridge over the railway tracks in Kurla.
The road is being thrown open just a week before elections in Mumbai as this is a major infrastructure project and the Congress-NCP government wants to reap electoral benefits.
The opening comes after the government inaugurated other major infrastructure projects like the new terminal at Mumbai Airport, the Sahar Elevated Corridor, the Eastern Freeway and the Mumbai Monorail. The Opposition alleges that these projects have seen delays due to the government's inefficiency and are being thrown open right ahead of elections as pre-poll stunts. Apart from infrastructure projects, the state government also increased the cut-off date for legalisation of slums as pre-poll sop.
No politician was present for the opening as the model code of conduct is in force. According to sources, the road was ready a few days back but the government wanted to throw it open just before elections in Mumbai. This morning finishing touches were being given as traffic started plying on the new road.