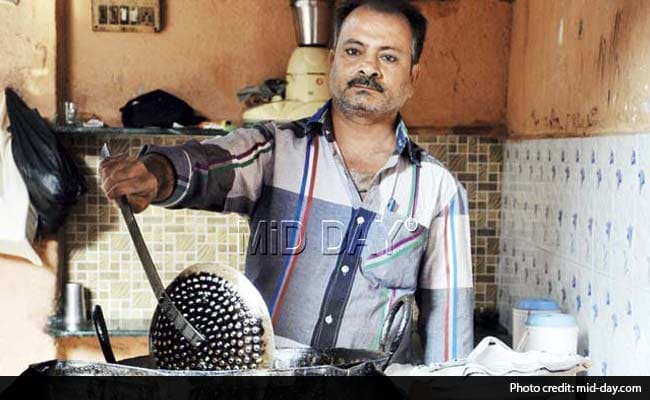 His wife left him with his two kids in tow three years ago, because his meagre earnings of Rs 150 a day were far from sufficient to support the family. Now, Ulhasnagar resident Prem Tejumal Gurudasani (42) is reasonably confident that she will come back. For, if all goes well, the vada pav vendor is going to have a net worth of over Rs 7 crore in just a few months.
Gurudasani, who has lived in acute poverty all his life and has been working as a vada pav vendor for ten years, never even dared to dream that his would be a rags-to-riches story. Living in a 160 sq ft house, which he shares with his brother's family, he never thought that he would turn out to be the part owner of two plots in Kalyan measuring a total of 9.5 acres.
Imagine Gurudasani's surprise, then, when one of the customers at the Sunil Tea Mart in Ambernath told him a few months ago that his grandfather had left him and his siblings two plots in Kalyan one at Wadeghar, measuring 7.5 acres and worth Rs 30 crore, and another at Ashalegaon, measuring 2 acres and worth Rs 5 crore.

Striking gold
The plots were allotted by the Central Government to Gurudasani's grandfather Radhomal Minhomal Chichariya alias Gurudasani (who died on April 19, 1984) after he was displaced from Pakistan post-Partition and was rehabilitated in Ulhasnagar. The local land mafia had usurped the plots by making a woman pose as Radhomal's widow.
As soon as Gurudasani heard about this, he filed various RTI applications and, armed with evidence, registered an FIR with the Bazarpeth police station in Kalyan. Acting on his complaint, the police began a crack down on the mafia and arrested one of the accused, Manoj Chichariya, in connection with the case.
Crorepati speak
Gurudasani, who says he is hopeful of getting his due following the police action, said, "I have been living in acute poverty. I have sold vada pav at the tea stall for the past ten years. I started with Rs 80 a day and now I get Rs 150 as my daily wage. Because of my low income, I had regular fights with my wife and she walked out of the house with my two kids nearly three years ago.
The first thing I want is to get my family back home. I miss my wife and children.""I make barely Rs 50,000 a year and I had never dreamt I would get so much money. I was not aware that my grandfather owned any such plots and he probably didn't know about them either.
Destiny has taken its course. I hope that justice will prevail and we will get what is rightfully ours," he added. If everything works in Gurudasani's favour, he will get a minimum of Rs 7 crore as his share in the property. "I have an elder sister, who will get 40 per cent of the property since she has brought all of us up. The other three siblings, including me, will get 20 per cent each."

Police case
Inspector B R Ghadge of Bazarpeth police station said, "The group made a woman, Lajwanti Chichariya, pose as Radhomal's widow and got the property transferred in her name by manipulating the property card (7/12 utara).
One of Chichariya's sons, who posed as a legal heir, has been arrested, while the rest are absconding." The Bazarpeth police have registered an FIR against 13 people, including Lajwanti Chichariya and the alleged kingpin, Godumal Kishnani, under Sections 420 (cheating), 465 (for forgery), 467 (forgery of valuable security, will etc), 468 (forgery for purpose of cheating), 471 (using as genuine a forged document or electronic record), 120 (B) (conspiracy), and 506 (common intention) of the Indian Penal Code. Officials said they suspect that the group may have been behind other such land grabs in the Ulhasnagar area as well.
Plot twistsWadeghar
During investigations, the Bazarpeth police officials found that the fraudsters tried to take over the 7.5-acre Wadeghar land in 2008. The group approached the revenue department and collector's office claiming that Radhomal Minhomal also had an alias, Ramchandra Mukhee, and that he had died in the year 1957.
Four imposters, Mohandas Mukhee, Mangaram Mukhee, Bhagwandas Mukhee and Govindram Mukhee, posed as Radhomal's legal heirs and staked their claim to the land. The revenue department, however, refuted their claims and rejected their affidavit.
Police said the group succeeded in the second attempt, when they made one Lajwanti Chichariya approach the revenue department and file an affidavit claiming that she was Radhomal's widow. In her affidavit, Lajwanti claimed that she had four children Manoj, Ashok, Varsha and Asha with Radhomal. On November 25, 2008, the plot was allotted to Lajwanti.
The very next day, she sold the plot valued at over Rs 30 crore to the kingpin, Godumal Kishnani, for just Rs 22 lakh. Kishnani subsequently allotted a portion of the land to a developer to construct residential apartments.
Ashalegaon
Lajwanti received this plot allotted after submitting Radhomal's fake death certificate at the revenue office. She and her children Manoj, Ashok, Varsha and Asha posed as legal heirs and got the property transferred in their names.
After manipulating the property card, Lajwanti gave power of attorney of the plot to her relatives Haresh Nandalal Verma and Meera Bajaj. Based on the power of attorney, the plot was then sold to a local developer, Gopinath Mukadum, for only Rs 18 lakh in September 2008. Around half acre of the plot has been encroached upon by some small-scale industries.

Probe scuttled
Officials from the Bazarpeth police said that the alleged kingpin, Godumal, who is an influential person, has been pressuring the cops not to proceed with the investigation into the case. Some senior policemen have allegedly been interfering with the investigations and asking Police Inspector B R Ghadge not to make further arrests.
Fed up with the pressure, Ghadge made a note of this in the station diary. The case was abruptly transferred from him to another officer in the afternoon yesterday. Ghadge, however, denied that there was any pressure on him.