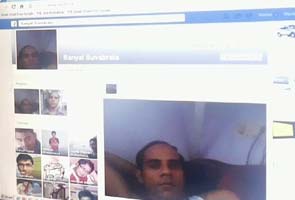 Navi Mumbai:
A domestic help, on the run for four months after robbing his employers in Navi Mumbai of Rs 25 lakhs, has finally been caught.
What led to 25-year-old Suvabrata Sanyal's arrest was his arrogance. After being in hiding for nearly four months, Suvabrata audaciously sent a Facebook friend request to his former employers, a senior citizen couple.
Following his friend request, he was traced and arrested from Kolkata.
Suvabrata had spiked the food of his employers and run away with cash and valuables worth Rs 25 lakh from their home in Navi Mumbai's Vashi in April this year.
To ensure that that the senior couple, retired marine engineer Deepak Raut, 69, and his wife Amita, 65, knew the friend request was from him, he posted a picture of himself reclining on a bed. Suvabrata had also sent friend requests to the son and daughter of the couple, who stay separately.