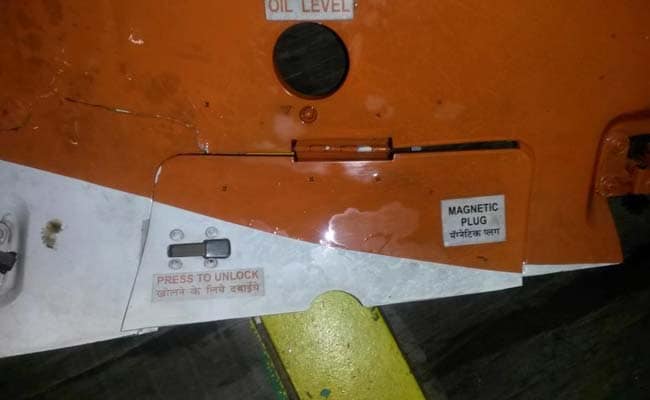 Mumbai:
The debris of the Pawan Hans helicopter that crashed off the coast of Mumbai on Wednesday has been found. A massive search operation is on to locate the two missing pilots.
Members of the search operation have recovered a portion of the door of the chopper which crashed around two nautical miles away from the SLQ Oil rig.

The 14-seater Pawan Hans Dauphin AS 365-N3 had two pilots on board on a night landing training mission. The cause of the crash is yet to be determined.

Two Indian Coast Guard ships have been diverted to the area, and a helicopter carrying ship was also dispatched from Porbandar port. Two Dornier choppers from Daman and Porbander were launched earlier on Thursday.

After the crash, Indian Navy's Immediate Supply Vessels T48a nd T50, a naval destroyer INS Mumbai, a night capable helicopter Seaking C and other vessels were rushed to the area to trace the missing chopper, but rescue operations were hampered due to the morning haze.
The chopper crashed at around 7:30 pm on Wednesday while carrying out night landing practice at Bombay High, a mid-sea oil rig run by Oil and Natural Gas Corporation of India (ONGC). ONGC hires Pawan Hans helicopters to ferry its officials from Mumbai to its offshore oilfield.


The 14-seater VTPWF Dauphin aircraft of 2001-make took off from the ONGC installation at 7:12 PM and contact with it was lost eight minutes later, a top official of the state-run Pawan Hans said.
Pawan Hans Limited is a government owned company with 46 helicopters in its fleet. It primarily provides helicopter support services to the oil sector for its off-shore exploration operations and services in remote and hilly areas and charter services to promote tourism.
In August this year, a Pawan Hans helicopter had crashed in Arunachal Pradesh. Three people including the two pilots died in that accident.