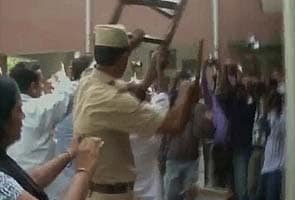 Meerut/Ghaziabad:
An agitation by lawyers in Meerut demanding the setting up of a high court bench in western Uttar Pradesh turned violent on Wednesday when civil administration employees confronted them.
Lawyers from Ghaziabad also took out a procession at the district collectorate and court compound.
Following the Meerut violence, the Ghaziabad bar gave a call for boycott of court proceedings today.
Meerut Bar Association president Jaivir Singh Rana said the agitation was absolutely peaceful but half a dozen lawyers sustained critical injuries after being confronted by district administration employees.
The lawyers also reiterated their demand to transfer the district magistrate.
Ghaziabad Bar Association president Rakesh Tyagi (Kakra) said the Meerut administration used police force against the agitating lawyers.
Yesterday, the Ghaziabad lawyers remained on strike and took out a procession demanding a high court bench in western Uttar Pradesh.
Earlier, the lawyers staged a dharna or a sit-in protest and stalled traffic movement on National Highway-58, NH-24, the Grand Trunk Road and other city roads.
Mr Tyagi rued that western Uttar Pradesh, with a population of 80 million and an area of 98,939 sq km had no high court bench, while states where just 10 lakh people lived had a full-fledged high court.