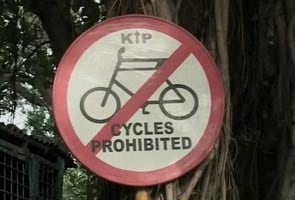 Kolkata:
Thousands of angry cyclists held noisy protests in the centre of Kolkata on Wednesday over a move by the government to ban them from major roads in the congested metropolis.
Under beaming sunshine, they gathered in the Esplanade area of the former colonial capital, chanting "We want cycles back!" and holding placards which read "Turn off your engine. Kids breathe here!"
"Banning cycles in a city like Kolkata does not make any sense. It's a crazy decision," Gautam Shroff, a spokesman for local cycling group Ride 2 Breathe, told news agency AFP.
"We wonder when many countries are encouraging cycling in a bid to ease growing pollution, why authorities put a ban on cycling here?" he said.
Local police barred bikers as well as the city's famous hand-pulled rickshaws from 174 roads and streets in August to try to reduce the legendary traffic-jams in the city that's home to 14 million people.
Officers allegedly started seizing bikes, further provoking the city's legions of cyclists, many of who use their bikes to get to work.
"Police are harassing cycle riders. My cycle was seized a week ago when I was riding to supply milk," said Yogesh Yadav, a milkman who works in the centre of the city.
Average traffic speeds locally are down to 8-11 miles per hour (14-18 kilometres per hour) compared with India's average of 13 mph (22kmph), state transport minister Madan Mitra explained to AFP.
"Kolkata has less cars than other metropolitan cities in the country, but most of its roads and streets are narrow," he explained.
"It's a decision to ease the traffic bottlenecks and increase the speed of vehicles," Mitra said, adding: "It's not a blanket ban. One can ride cycles in lane and by-lanes of the city."