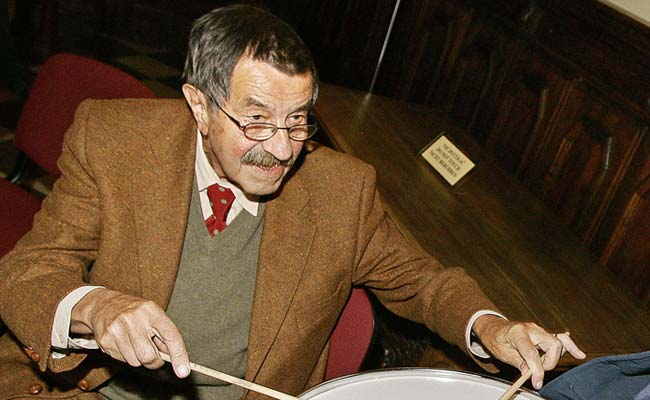 Kolkata:
From a dark depiction of the "omnipresent stench", the people dwelling in concrete pipes and damning criticism of the city's culture of hero worship to a philanthropic reachout to its marginalized people like ragpickers - Gunter Grass' 40-year-old association with Kolkata had multiple shades.

The versatile German Nobel Laureate, who effortlessly moved from one genre of art to another, visited the city thrice - the trips separated at least by a decade - talking to its street children, sex workers, women tobacco factory workers, artists and intellectuals and picking up ideas about his poems, novels and paintings.

The maiden tour came in 1975, and the fallout was a chapter in the novel The Flounder two years later.

Grass returned to the eastern metropolis towards the end of 1986 with his wife Ute, mainly for the Bengali-language staging of his 1966 play, ''The Plebeians Rehearse the Uprising".

Half of his six-month stay was at the posh Salt Lake residence of painter Shuvaprasanna, who refers to the German genius as not only his "best friend" but also as "my friend, philosopher and guide".

Two years later - in 1988 - Grass came out with "Show Your tongue" - 97 pages of journals, a 12-stanza poem and 112 pages of Expressionist drawings.

The title was a reference to goddess Kali, who is usually depicted with her tongue hanging out, and is the presiding deity of the famous temple in south Kolkata's Kalighat.

The diary-like book talked of "cowdung patties" (dried cow dung) dried on graffiti filled walls, blocks of stuffy buildings, which often were without water and electricity, child rag pickers, shelterless people sleeping out the nights under the open skies - and an omnipresent stench.

Needless to say, it created a storm, with intellectuals and politicians attacking him for showing Kolkata in poor light.


But Shuvaprasanna has no doubts that Grass loved Kolkata. "But it is the love of a creative mind. He spoke to the hoi polloi and the gentry and carefully analysed in his mind what he saw. The book was a product of all that," the painter told IANS.
"He always hated hypocrisy. He hated the hypocrisy he saw in Kolkata. He did not like the culture of hero worship. He said you don't dissect he qualities of your heroes".
The book was dedicated to the Calcutta Social Project (CSP), a non-governmental organisation working for the underprivileged and financially excluded women and children.
CSP's accountant-administrator Netai Bera still remembers those days. "For the first few months he stayed at Baruipur (southern suburb of Kolkata). He went to the Dhapa garbage dumping ground regularly to study the project for child ragpickers we were running there.
"He used to come to our office very often. He went to the slums in the city where we had projects mingling freely with pavement dwellers, street children. He did not have any airs," Beral told IANS.
"He not only dedicated the book to CSP, he also used to send good amount of money from its royalty every year. At times, the figure went up to Rs 3-4 lakhs."
Shuvaprasanna recalled that when he held an exhibition in Munich in 1988, Grass inaugurated it. "He also invited me to his house.