Thiruvananthapuram:
A letter purportedly written by a group of female excise officers has alleged widespread sexual harassment at work by their male colleagues in Kerala, sparking concerns and demands for an inquiry. The Excise Commissioner of the state, however, has termed the anonymous complaint "fake".
Addressed to the Excise Commissioner Rishi Raj Singh, the letter attempts to explain the anonymity saying, "We wanted to come in person and complain, but the moment we do that, male officials will start harassing us, make our survival difficult and oust us... We are forced with no other alternative but to write this letter to you."
The letter is also copied to the state's Chief Minister Pinarayi Vijayan, the Excise Minister, State Human Rights Commission and the Women's Commission.
The copy of the letter that has been accessed by NDTV read, "We are being subjected to several forms of abuses. Male officials approach us with the inappropriate stares. With God as witness, we say we have been subjected to sexual abuse by senior officials in the department."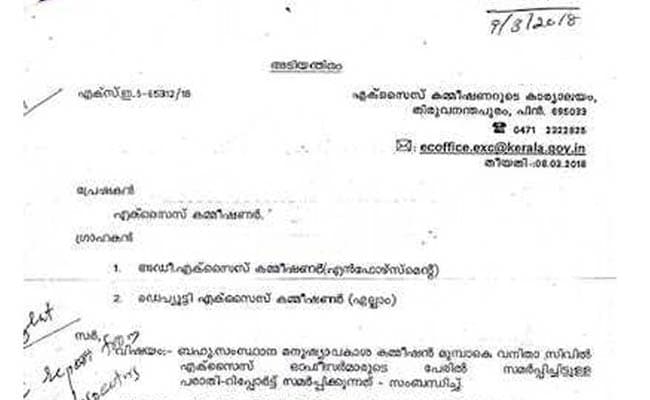 "We are forced to work with officials in range offices who consume alcohol from morning to night," it added.
"Many offices don't have toilets, restrooms for women; many districts have no functioning grievance redressal mechanisms... There is no one to hear us out," the letter said.
The state human rights commission has asked for a report from Commissioner Rishi Raj Singh within three days. On Thursday, opposition leader Ramesh Chennithala raised the issue in the assembly demanding a probe by a female IPS officer. Chief Minister Pinarayi Vijayan however responded saying a decision will be taken in consultation with Mr Singh.
Mr Singh told NDTV, that the letter "seems fake".
"There are no specific complaints or names mentioned. Every month, I travel extensively and cover at least 10 districts. I speak to women officials and always ask them how far is the range office they have been posted to from their house. In last two years no woman has been posted beyond a 10 km distance from her house. Every year, a hundred scooters are being given to women to empower them and ensure their safety. In today's age of communication and technology, women have a lot of avenues to address their grievances."
"In the letter they have expressed faith on me but I never got the letter from them. I got the letter only from the Human Rights Commission. They had several chances of reaching out to me," he added.