Thiruvananthapuram:
North Korea under its supreme leader Kim Jong Un is leading by example in defending against the US's tough sanctions and in responding to threats of military action by President Donald Trump, Kerala Chief Minister Pinarayi Vijayan has said.
Communists have been calling the US an imperialist power. At a party meeting in Kerala's Kozhikode, the CPM leader said North Korea is putting up stiff resistance against the US in a much better way than even its neighbour and Communist-ruled China.
"North Korea has been adopting a tough anti-US stand. North Korea has successfully withstood the pressure exerted by the US," Mr Vijayan said at the party meeting some 370 kilometres from state capital Thiruvananthapuram.
He said China has come under criticism after its fight against imperialist forces did not live up to people's expectations.
The Kerala chief minister's remarks came days after a flex board of the North Korean leader appeared in a programme of the CPM's unit in Idukki district. It was later removed by the party, which eventually clarified that Kim Jong Un's photo was included by mistake.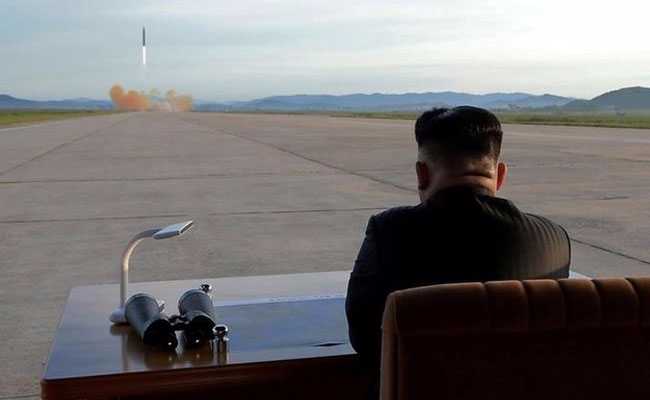 North Korea has been testing ballistic missiles for the last few months, a move that the US said was destabilising. Mr Trump has asked China and Russia to exert pressure on the authoritarian regime to shed its nuclear ambitions.
Just yesterday, the White House defended Donald Trump's tweet about the size of his nuclear button, saying Americans should be concerned about the North Korean leader's mental fitness, not their President's, news agency Reuters reported.
On Tuesday, Mr Trump responded to a New Year's Day speech in which Kim Jong Un warned he had a nuclear button on his desk by saying that his nuclear button "is a much bigger & more powerful one than his, and my Button works!"
In his New Year speech, the North Korean leader warned that the entire US was in range of North Korea nuclear missiles. He said his country would focus in the coming year on mass producing nuclear warheads and ballistic missiles for operational deployment, but added that these would be used only if North Korea's security was threatened.
Get Breaking news, live coverage, and Latest News from India and around the world on NDTV.com. Catch all the Live TV action on NDTV 24x7 and NDTV India. Like us on Facebook or follow us on Twitter and Instagram for latest news and live news updates.