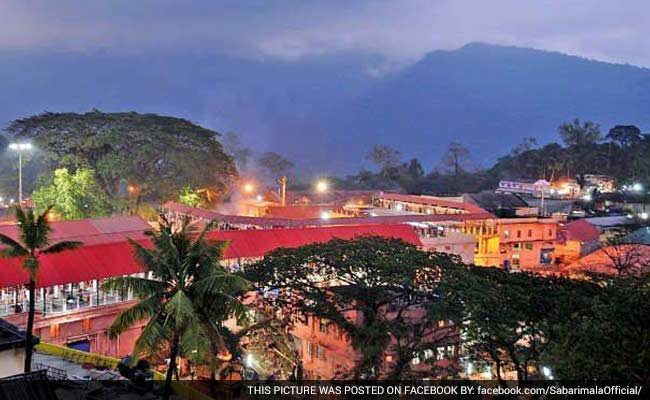 Thiruvananthapuram:
Devotees planning to visit the Sabarimala temple in Kerala will have to wait for the situation in the flood-hit state to improve. As the temple is situated along the banks of the Pamba which is overflowing, the administration has described it unsafe for devotees to take a dip there and decided not to allow them till the waters recede.
A Padmakumar, president of the Travancore Devasom Board (TDB) which manages the Sabarimala Temple, said that while all pujas and religious activities starting Wednesday will take place as usual, devotees will not be allowed.
As the state has been witnessing the worst monsoon in almost a century, resulting in overflowing of several rivers, including Periyar and Pamba. Thirty nine people have lost their lives in the last five days in rain-related incidents.
The decision was taken after the shutters of several dams in Kerala's Pathanamthitta district were opened following heavy rain in the last two days. The restrictions will remain in place till further orders.

"Both the bridges across Pamba are inundated. Shops and 'mandaps' on the bank of Pamba are also flooded. In these circumstances, it is not possible for pilgrims to cross the river and visit Sabarimala," the board said.
A large number of pilgrims were expecting to visit the famed Lord Ayyappa temple as it opens for the 'niraputhari' ritual and festivities of 'Chingam' on Tuesday. But the police have said that the road to Sabarimala will be barricaded and devotees who don't adhere to the advisory will be sent back.
Ketto, one of India's biggest crowdfunding sites, has launched a campaign for the affected. Please click here for details on how you can help.
Note: This information has been provided/published on a good faith basis, without any commercial motive. NDTV does not vouch for the authenticity of the claims made by the intending donee, nor can we guarantee that the donations made by a donor will be used for the purpose as stated by the intending donee. You are requested to independently verify the contact information and other details before making a donation. NDTV and/or its employees will not be responsible for the same.