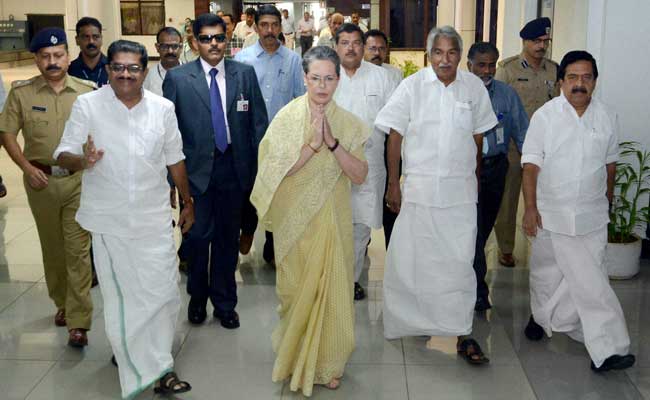 Pambady:
Congress president Sonia Gandhi today warned against forces which were trying to "re-write history" and denying India's glorious composite heritage.
Ms Gandhi while dedicating to the nation the Rajiv Gandhi Institute of Technology at Pambady in Kottayam district, also took a dig at the Left and other political parties which had opposed computerisation in the country introduced by former Prime Minister and her husband late Rajiv Gandhi.
She reminded the people that Rajiv Gandhi had "warned against those forces who proclaimed their commitment to technology on the one hand, but practised social obscurantism and intolerance on the other; forces that are attempting to re-write our history, denying India's glorious composite heritage."
Those who had opposed technology were now laying claim to it, she said, adding, "It is ironic that yesterday's critics have become claimants of this valuable legacy."
Touching upon the various initiatives taken by Rajiv Gandhi in the field of Information Technology, she said, "It was during his tenure that India entered the computer and telecommunication era in a big way."
Referring to the brickbats that came his way, she said Rajiv Gandhi was "criticised, politically attacked, ridiculed" and portrayed as "elitists" for his emphasis on these areas.
But being Rajiv, he pursued with single minded focus. For him technology was an instrument for "social transformation and social empowerment" which is why he introduced technology mission in areas like drinking water, immunisation, literacy and communication, she said.
"Rajiv Gandhi's steadfast belief in technology and belief in democratic, secular, liberal values were two sides of same coin... Technology for him was not just relevant to hardware it was also closely interwoven into the software of values."
Former Prime Minister Jawaharlal Nehru had encouraged the need to promote scientific temper in society. Rajiv Gandhi understood its importance and he was deeply conscious of India's customs, traditions and respected them. Yet at the same time, he strove to promote a more modern and progressive outlook and the convergence of our ancient wisdom and scientific knowledge, she said.
Kerala Chief Minister Oommen Chandy and Education Minister Abdu Rabb were among those present.